01.12.2014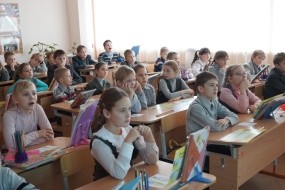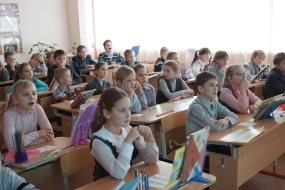 Specialists of IDGC of Centre - Smolenskenergo division organized a meeting dedicated to energy conservation for third grade schoolchildren of Smolensk school 35. The main objective of the power engineers was to teach children the rules of rational use of energy in school and at home.
The children were told about alternative types of energy generation, methods of its rational use, as well as the energy conservation law. The children with interest perceived the new information that was accompanied by a presentation on energy saving. During the course the schoolchildren took an active part in the discussion of energy efficiency, talked about their own observations of the use of electricity at home. In the final of the lesson the children took part in a game with the rules of energy saving, which they studied during the lesson: "What still needs to be done to make your home energy efficient?" All the children were happy after coping with the task.
In addition to the informative lecture, Smolenskenergo's experts prepared gifts for children - timetables with energy issues, and for teachers - stickers for classrooms "Switch off the light when leaving". It is worth noting that not only schoolchildren receive new knowledge at such lessons, but as homework they share tips on energy saving with their family members.
According to the organizers, the children were very active, happy to answer all questions. The teachers also asked questions with interest and helped their schoolchildren solving problems posed by the power engineers.
The lesson for the third-graders was held by an engineer of marketing and customer interaction of Smolensk City Distribution Zone Alexander Korenyuk and engineer of category 2 of marketing and customer interaction of Smolensk City Distribution Zone Anastasia Mikhailova. Anastasia has been engaged in the theme of energy saving for a long time, took an active part in the competition of presentations on energy efficiency, which was held in IDGC of Centre in the summer of 2014. The contest then received 45 works from the individual and collective members, most came from IDGC of Centre - Smolenskenergo division - 8 projects.
Smolenskenergo continues actively teaching schoolchildren the basics of energy saving. From September to November 2014 more than 60 lessons in the schools of the Smolensk region were carried out. Another 40 lessons will be held by the end of the year.
IDGC of Centre - Smolenskenergo division also participated in the First All-Russian ENES competition of completed projects in the field of energy conservation and efficiency. The work of Smolensk power engineers in the category "Best project to promote energy-saving lifestyle among preschool and school-age children, implemented in a school": Energy conservation lessons of IDGC of Centre - Smolenskenergo division were highly appreciated by the jury.