27.11.2014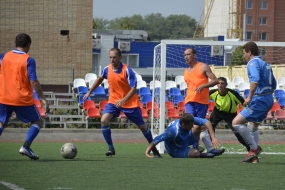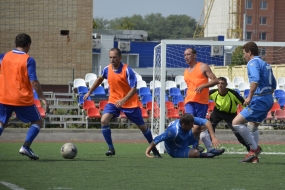 The team of Kirsanovsky Distribution Zone of IDGC of Centre - Tambovenergo" won the Cup of the Head of Kirsanov district of the Tambov region.
Demonstrating a high level of physical fitness, team spirit and the will to win,the power engineers consistently beat all rivals, including the final - one of the strongest teams - "Triumph" (Kirsanov) and won the first place. The Cup and Certificate of Merit at an awarding ceremony were handed to them by Head of Kirsanovsky District Vladimir Khatuntsev.
"Our team was created a few years ago of young specialists, during this time we played well, developed our own style and tactics. Thanks to this, as well as the high commitment of each of the players, we were able to win today," commented on the results of the tournament the team's captain, a worker for complex maintenance and repair of buildings of category 4 of the administration and maintenance department of Tambovenergo Ivan Artyukhin.
The team of Kirsanovsky power engineers repeatedly won prizes at competitions in mini-football at various levels. Its victories include numerous awards of municipal, district, and corporate sports events.
"Our company pays great attention to work with the staff. Sport is an important part of it, helping to form a special spirit of unity in the team, involve employees into a healthy lifestyle," stressed Head of Human Resources of Tambovenergo Olga Vyazovova.