08.10.2014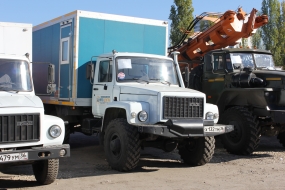 IDGC of Centre - Voronezhenergo division took part in the All-Russian civil defense staff training with federal, regional executive bodies and local authorities. The training was held in anticipation of the Civil Defense Day in accordance with the plan of the main activities of the Central Regional Centre of EMERCOM of Russia. The event was attended by Head of the Centre, Lieutenant-General of Internal Service Oleg Bazhenov.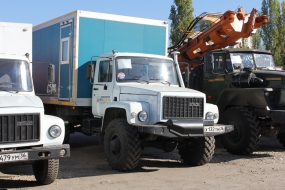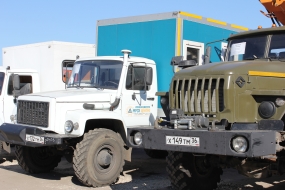 During the training he had a review of readiness of the forces dealing with emergencies on risks of their occurrence during the autumn-winter 2014-2015 period. In the premises of the "Centre of the State Inspectorate for Small Vessels of EMERCOM of Russia in the Voronezh region" there were exhibits of special vehicles in service with EMERCOM, the fire department, police, Rospotrebnadzor, power engineers, other services and agencies.
Voronezhenergo presented a crew vehicle, a digger and a snowmobile on a trailer with a towing vehicle at the review. Specialists of the branch also showed a mobile workplace of an operations group, equipped with everything necessary so that power engineers could as soon as possible start working in an area of emergency situations: GPS-navigators, communications, clothing, technical documentation, and three-day dry rations.
According to Head of mobilization training, civil defense of Voronezhenergo Sergey Durnev, the specialists of the branch showed full readiness of their forces and means for the autumn-winter operation period.