30.09.2014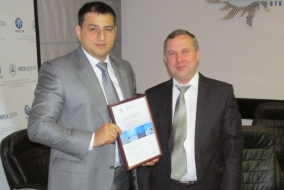 September 24, 2014 IDGC of Centre - Smolenskenergo division was awarded the Certificate of readiness for the autumn-winter operation period of 2014-2015 - a document confirming the availability of Smolensk power engineers to work in peak loads.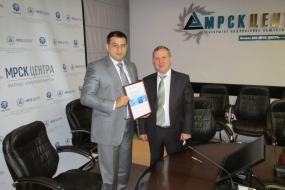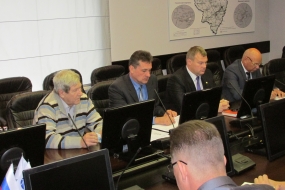 The work performed during the year was assessed by a commission consisting of representatives of IDGC of Centre, Smolensk Regional Administration, a branch of JSC "SO UES" Smolensk Transmission Control Centre, the regional offices of RTN and the Russian Emergencies Ministry.
The Certificate of readiness was awarded by the Commission Chairman, Deputy Chief Engineer for Production Control and Safety of IDGC of Centre Alexander Zamotay. He noted that the work of the Smolensk power engineers was performed in accordance with the plans, the branch approached the receipt of the Certificate of availability responsibly and fulfilled all the requirements to start operating in the autumn-winter period. Members of the Commission wished employees of the company fewer natural disasters in the Land of Smolensk and trouble-free operation through the coming autumn-winter period.
"The Certificate of readiness is an important for the Smolensk power system document that officially confirms that Smolensk power engineers completed all the necessary work to prepare for the winter and should successfully and smoothly operate in the cold," explained Deputy General Director of IDGC of Centre - Smolenskenergo division director Sabir Agamaliev. "The work of the region's power system during the winter months depends on the way we prepare during the warmer months."
Indeed, careful preparation promotes proper start operating in the autumn-winter period, the smooth work of industrial plants, communication systems, water, transport, operation of educational and medical institutions, and other social facilities of the Smolensk region, as well as the presence of light in homes of residents of the Smolensk region."
Preparing to the autumn-winter operation period is a complex, stressful, costly and important process, which begins in the spring. A set of activities includes not only technical, but also events with staff, including emergency drills to test the action in emergency response at low temperatures. Continuity and reliability of electricity supply in the Smolensk region, first of all, depends on the efficiency of electric equipment of Smolenskenergo. In preparation for the autumn-winter period the power engineers pay much attention to all the planned activities of investment and maintenance programs, the implementation of which will continue in accordance with the approved plans.