24.09.2014
IDGC of Centre - Voronezhenergo has the mostly landscaped premises among production enterprises of Left Bank district of Voronezh. This became known as a result of a contest for the best landscaping and upkeep of premises, which is held annually by the city authorities.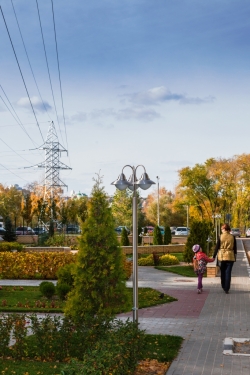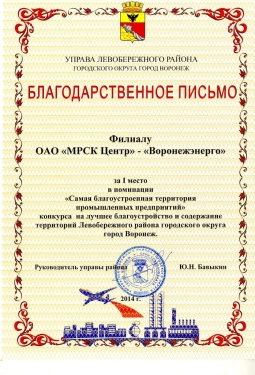 The purpose of the event is to increase the level of improvement and upkeep of Left Bank district, exemplary maintenance of streets, squares and buildings, improving the quality of commercial and public services, involvement of citizens to participate in the improvement of yard areas, private housing streets, foster a sense of love for their native city.
It is important to note that the leadership of Voronezhenergo pays permanent attention to the improvement of facilities, and the branch repeatedly became a winner and took prizes in the municipal contest. By the way, Voronezh power engineers are actively involved in citywide and regional volunteer clean-up, and the Park of Power Engineers, which for many years has been cared for by the branch's staff, became one of the attractions of the Left Bank.
"Thanks to the work of Voronezhenergo Left Bank district every year becomes even cozier and more beautiful!" underlines the head of the city council of Left Bank district of Voronezh Yury Bavykin.
It remains to add that Voronezhenergo as the winner of the urban stage is to take part in the regional contest of improvement.