11.09.2014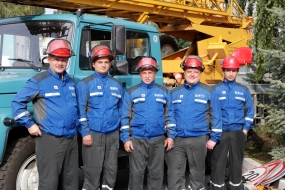 September 10 in preparation for the autumn-winter operation period IDGC of Centre - Belgorodenergo division held joint command post exercise on the elimination of massive power outages in the region. The power engineers worked out cooperation with the Department of EMERCOM of Russia in the Belgorod region, Belgorod branch of System Operator "SO UES", a branch of JSC "FGC UES" Chernozemnoye enterprise MES, a branch of JSC "Quadra" - "Southern Generation" and executive authorities of the region's municipalities.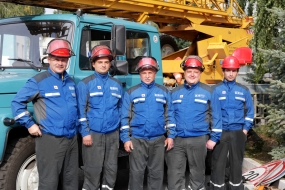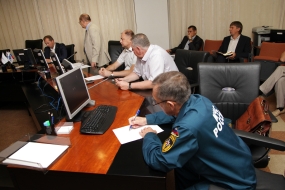 The power outage cause in the opening conditions was a sharp drop in the ambient temperature, strong winds and snowfall, which interrupted operation of 91 power lines and more than a thousand transformer substations. In the emergency area there were facilities of housing and communal services, industrial and social spheres in 20 districts of the region, more than 86 thousand people had no light on.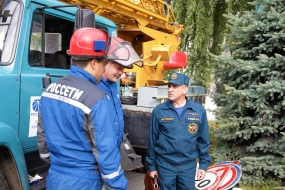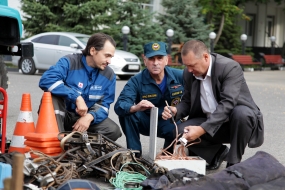 A big failure occurred on the 110 kV line "Metallurgical - Golofeevka #1" in Stary Oskol. This led to disturbances in the 750 kV substation "Metallurgical" and a number of 110 kV substations: "Golofeevka" "Skorodnoye" and "Konshino". 175 transformer substations were out of order, which supplied power to 11,600 people in the service area.
According to the training scenario a first responding mobile crew of Belgorodenergo went to the interruption location at the substation "Golofeevka". At the same time staff of Chernozemnoye enterprise MES started to clarify the circumstances of the incident at the 750 kV substation "Metallurgical".
To restore the power supply to consumers the training involved backup power supply circuits for consumers and independent sources of electricity supply. Operational and maintenance personnel of eleven districts of the region participated in the training to eliminate the violations, provided with the internal operational communication, necessary equipment, materials and special vehicles. In total, 35 first responding mobile operational and 46 repair crews of the branch of 254 people were directly involved in the work at the power facilities.
Deputy Director for Technical Issues - Chief Engineer of IDGC of Centre - Belgorodenergo division Denis Yagodka noted the coordination of work of all the participants in the exercise: "We practice on a regular basis addressing different emergencies. Such events allow to test the operational readiness of emergency services for the elimination of consequences of natural and man-made disasters, to work out the precise interaction of power engineers with rescue services and housing and communal services of local authorities so that in the cold time of the year in a case of urgent need, we could quickly restore electricity supply to consumers and work of housing and communal services."