08.09.2014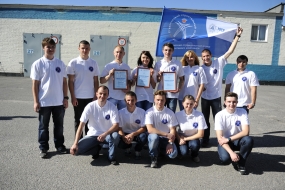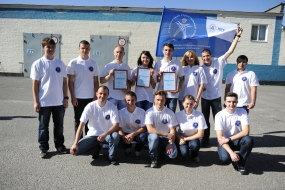 Eight students of construction crews of IDGC of Centre - Belgorodenergo division on the basis of their labour semester were transferred to a permanent job in crews for operation of overhead and cable lines and street lighting. The young people plan to combine their job with studies at the BSTU named after V.G. Shukhov.
The young professionals will continue to work as electricians at structural subdivisions of the branch. The company's management requests that the educational institution to provide these students with the right to free attendance. Following their education, the young people will get not only diplomas, but also some experience in the specialty.
Please, be reminded that the first season of construction crews of IDGC of Centre - Belgorodenergo division lasted from July 1 to August 15. For six weeks fourteen students of the BSTU named after V.G. Shukhov and the Belgorod Industrial College took part in the overhaul of 6 (10)/0.4 kV transformer substations, construction and installation of new cable lines, elimination of technological failures and utilization of forest residues after clearing ROWs along Conductors and other types of work.
Next year it is planned to increase the number of students' construction crews who will work at structural subdivisions of Belgorodenergo. "It helps the young people in practice obtain a clearer picture of their future profession, and we have a chance to get to know our future specialists and take the best of them, to offer them a job at Belgorodenergo," stressed Head of Human Resources Victor Voronov.
Such close cooperation is useful both for educational institutions and the company, helping solve the problem of employment of graduates. In addition to the construction crews' members this year's practice at Belgorodenergo was taken by about two hundred students of higher and secondary specialized educational institutions. They got familiar with the equipment and technology, visited the company's facilities.
In addition, the power engineers constantly collaborate with specialized universities in the training of qualified personnel. Agreements have been reached with the BSTU named after V.G. Shukhov in terms of studying issues of concern for the energy industry's technical aspects. Together with the SRU "BelSU" they develop relevant training programs for young professionals and coordinate educational modules to the needs of the grid company.
As part of the dual training contracts have been signed with the Belgorod industrial College and Valuisky Industrial College. If necessary, the company carries out targeted recruitment of students with focused specialization, it partially covers their college tuition, followed by the recruitment at Belgorodenergo.