02.09.2014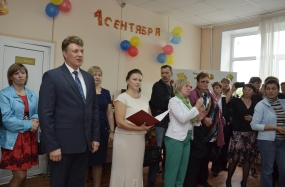 IDGC of Centre, as a socially responsible company, pays serious attention to the implementation of projects aimed at assisting the institutions where children with disabilities or deprived of parental care learn and are brought up. An activity of IDGC of Centre - Tambovenergo division serves as an example of that, which has been for more than twenty years a patron of special (correctional) boarding school #2 for deaf children in the Tambov region. Representatives of the management of the branch provide assistance and support to the educational establishment to improve the material and technical base, regularly visit its pupils during each academic year.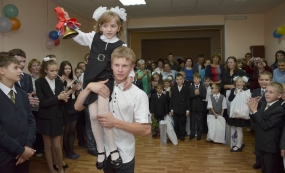 The next such visit took place September 1 - on the Day of Knowledge. The power engineers, following a good tradition, visited them at the solemn line meeting, congratulated them on the beginning of the school year and presented gifts to first-graders. Also, each of the 15 children were given a set of specialized literature and posters on electrical safety, which in future will help them adapt to the social environment and remember the basic rules of handling electricity.
The boarding school administration expressed their gratitude to the patrons for sensitivity, understanding and warm attitude towards the pupils. "The children are grateful to Tambovenergo's representatives not only for the gifts, which they traditionally give to the holiday dates, but also for your attention," says Director of the boarding school Nadezhda Dementieva. "Participation of the power engineers in the lives of the children allows them to grow and feel the world around us more confident."
"Children with disabilities, perhaps, even more than others, need care, attention and support. They need to feel that they are not forgotten. Therefore, the employees of our branch every time they come to the children to visit, try to give them a piece of their warmth," underlines Chief of Staff of IDGC of Centre - Tambovenergo division Andrey Remizov.