02.09.2014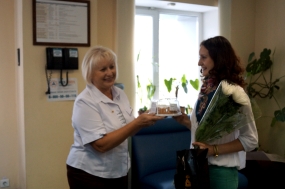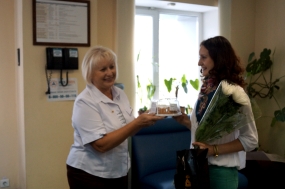 The Customer Service Centre (CSC) of IDGC of Centre - Smolenskenergo division in the city of Smolensk received the 48,000th customer in late August. It was a resident of the regional centre of Maria Ratusheva, who used the services of the Centre for the first time. Like many of Smolensk city residents, she went there to have connection to the grid of Smolenskenergo. The anniversary visitor was congratulated by Head of the CSC Irina Eliseenkova and Head of Customer Service of the branch Tatiana Antonyuk.
"Honouring anniversary visitors of the Smolensk CSC became a tradition of the branch," noted Tatiana Antonyuk. "Interests of potential and existing customers are a priority for us, so we try to give them our full attention."
"It was so nice to come in Smolenskenergo and get not only a wealth of information but also gifts. I would like to thank the CSC's staff for the competence and conscientious attitude to work," commented Maria Ratusheva.
The CSC in Smolensk was opened six years ago. All this time it actively develops and offers new services and new opportunities to customers. Skilled employees will find an individual approach to every visitor and promptly resolve their questions. The Centre's services are growing in demand, as evidenced by the statistics. For seven months of this year its experts received 5,331 customers - 1.5 times more than the year before. 775 people applied for the provision of value-added services, 3,575 - for connection to the grid of the branch, 981 - on other issues.
In addition to the services of the Customer Service Centres of IDGC of Centre, consumers can use the Internet-reception on the website of the company at www.mrsk-1.ru. With its help one can get the necessary information about the services of the company, rates and terms of grid connection, refer to the documentation or ask a question. Also, for the convenience of customers in all regions where IDGC of Centre operates there is the direct line of power engineers at 8-800-50-50-115 or short number for calls from fixed phones at 13-50 (toll free). Taking advantage of these simple services, one can get answers to questions relating to power supply.