01.09.2014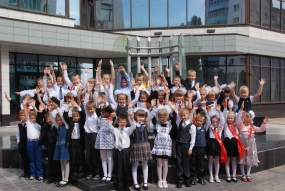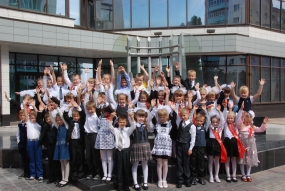 Today, on the Day of Knowledge, Belgorod power engineers held the first lesson of safe electricity handling for 150 first-graders whose parents work at structural units of IDGC of Centre - Belgorodenergo division.
An engineer of industrial control and safety Alexander Khafizov said what should not be forgotten when dealing with electricity, explained the purpose of special warning signs, which all power facilities are equipped with, and to consolidate the knowledge he demonstrated funny cartoons to the pupils. After that the young viewers saw a performance of artists of the Belgorod State Puppet Theatre with the tale of "Happy Bears".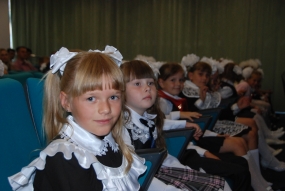 Just this year the power engineers have already conducted more than 200 lessons on electrical safety, about 65 of them - in the summer, which is traditionally considered the most problematic in terms of ensuring the safety of schoolchildren.
In order to clarify simple rules of behaviour near power facilities for the children, engineers of industrial control and safety from June to August visited 37 summer health and school camps, organized eight trips to repair and production bases of enterprises of Belgorodenergo, visited two social rehabilitation centres. For example, lessons with contests and giveaways were held by the power engineers for pupils of the Krasnoyaruzhsky social rehabilitation centre for minors and the Rehabilitation Centre for children and young people with disabilities in the village of Merry Lopan.
In June, under the event "Hooray, we have a holiday!", developed by staff of the Museum of Energy of the Belgorod region especially for the summer holiday, more than 400 children, vacationing in the city school camps, learned about the rules of electrical safety. And in August the new and useful knowledge was received by pupils of more than twenty nursery schools, located in different areas of the region.
The summer is over, but the holiday memories have not passed out. The power engineers remind that until September 15 all children can take part in the contest of creative works "Safe Holidays", announced by IDGC of Centre - Belgorodenergo division together with the publishing house "Mir Belogorya". The most interesting drawings, photographs, poems, short stories, fables and other literary works, as well as works of arts and crafts, demonstrating details of electrical safety and proper behaviour in emergencies, will be published in pages of the children's magazine "Big recess", and the winners and prize holders will be awarded with prizes and gifts.
Works should be sent to the following address: 308009, Belgorod, Prospect Slavy 100, the editor's office of "Big recess", by email - peremenka@belpressa.ru or to the press service of IDGC of Centre - Belgorodenergo division at: 308000, Belgorod, Preobrazhenskaya Street 42, office 311, press-service@mrsk-1.ru