25.08.2014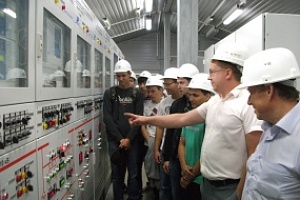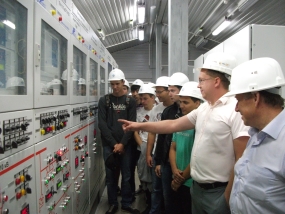 During the summer holidays IDGC of Centre - Kostromaenergo division welcome opened its doors to students who are interested in the power industry. About 50 students of the Kostroma State Technological University visited the Grid Control Centre (GCC), the substation "North" and the Museum of the Kostroma Power Grid History.
Indoor the Grid Control Centre Deputy Chief of Operations and Technology Group Sergey Shuvalov spoke about the prospects of development of supervisory control in the company, about advantages of modern equipment, which the Centre is equipped with, being the most advanced in the technical sense in the region.
The students were interested in a variety of questions: possibility of remote control over substations, collection and transmission of operational information, principles of dispatching services operation, prevention and elimination of technological failures. Video cubes with the standard circuit of Kostromaenergo was of great interest among the students, which allow real-time monitoring the situation of power supply to consumers of the Kostroma region, around the clock to control the operation of the equipment of the branch.
During the tour of the Substation 110/35/10 kV "North" the young people together with a teacher learned that the substation operates without staff, all parameters are monitored by specialists of the Grid Control Centre of the branch. During the tour the students saw with their own eyes the modern feeding centre operation, what equipment was installed to improve reliability of power supply to customers and staff safety. The students carefully saw the modern equipment, asking the tour guide a lot of questions. They learned that the substation "North" had some reserve electrical capacity and skilled personnel of Kostromaenergo supported the normal functioning of all this modern energy facility.
Getting to know the enterprise continued in the Museum of the Kostroma Power Grid History. Here, according to the old traditions, they met graduates of the faculty working at Kostromaenergo, who spoke of a global network of IDGC of Centre. The main emphasis in the speeches was placed on the need for utilities workers' high qualifications, competence, diverse knowledge for the use of modern and innovative software products.
The students also visited the Museum of the Kostroma Power Grid History, where Head of the Department of Public Relations Tatiana Drozdova told in detail the future power engineers the main directions of the technical and social policy of IDGC of Centre - Kostromaenergo division.