25.08.2014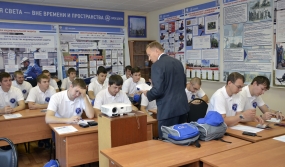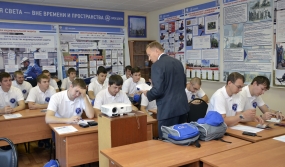 Tambovenergo sums up the first labour season of students' construction crews. This summer, on the site of the branch the construction crew "Energy" was established, which consisted of 15 senior students of the Institute of Energy, Instrumentation and Electronics of the Tambov State Technical University (TSTU). Beginning July 1, over one and a half month, the young people worked at Tambov District Distribution Zone, as part of a crew of the department for electricity metering and optimization of losses.
Members of "Energy" were involved in the work to take meter readings of individuals, instrumentation check of metering channels, replacement of electricity meters and lead-ins to buildings. Also under the supervision of specialists of first responding mobile crews they participated in the assignment of dispatch names at power facilities, putting numbers on electricity poles, installing warning signs in exclusion zones of overhead lines.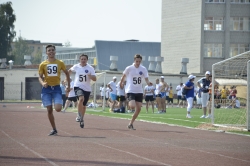 Tambov power engineers helped the members of the construction crew quickly join the team and learn about the traditions of the enterprise. For them a tour of the museum of the Tambov power system history and a visit to the Grid Control Centre were organized. As noted in Tambovenergo, such activities are part of the work to revive the traditions of the labour education of the youth, which the branch pays serious attention to.
During the labour season the students mastered the basics of the future profession and managed well to prove themselves. "The work in the construction crew was for the young people some powerful stimulus for further professional development," says the chief of Tambov District Distribution Zone Yury Ulyanov. "They were active, took the initiative. This was noted by the leadership. One of the members, a fifth-year student Mikhail Makarov was invited after graduation to continue working at Tambovenergo."
According to the leader of the crew "Energy" Herman Eremin, during the labour semester all the young people gained invaluable practical experience, got to know and appreciated what in reality the power engineering profession is - with its high sense of responsibility, dedication, competence, mutual assistance. The construction crew season was for them an important step towards professional and personal development, he underlines.
The final stage of the construction crew members' work at Tambovenergo was their involvement in the preparation and conduct of the V Summer Games of IDGC of Centre, which took place in Tambov. Five of its members took personal part in sports competitions in swimming and track and field, showing good results in the end.