19.08.2014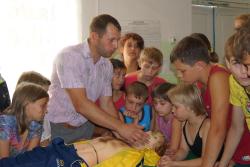 Specialists of IDGC of Centre - Kurskenergo division continue to hold public lessons on electrical safety for children and adolescents in schoolyards and country recreation camps. Classes are organized as part of the large-scale program for the prevention of children's electrical injuries by the company. To date, Kurskenergo's experts have conducted 12 out of 17 planned public lessons for 2014.
Another session was held last week in the children's camp "Forest Fairy Tale" in Belovsky district of the Kursk region. It was attended by more than 40 campers of school age there. Representatives of Kurskenergo told the children about the benefits and dangers of electricity, familiarized them with the rules of behaviour in the vicinity of power facilities, safety precautions when handling appliances and safe methods of releasing a victim with electric shock. Then with the help of a simulator "Gosha" they demonstrated the process of rendering first aid to the victim.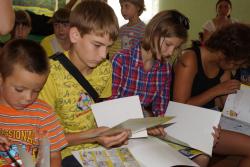 Colourful posters and videos that the power engineers illustrated their story with stirred great interest among the pupils. And at the end of the lesson the children were presented with themed pocket calendars, schedules for lessons and colouring books "Energolandiya".
Senior representatives of the camp thanked the power engineers for conducting the lesson. "Such events are of great social importance," underlined Director of the camp "Forest Fairy Tale" Viktor Cherkasov. "As the practice shows, they really help reduce the risk of children's electrical injuries."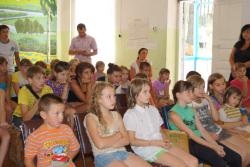 Public classes are a part of the performed by Kurskenergo's specialists comprehensive work on prevention of children's injuries. In addition to them the power engineers regularly organize seminars for Life Safety teachers - to date about 150 teachers of the Kursk region have become their participants. In addition, according to Head of Office of production control and safety of Kurskenergo Alexander Roschupkin to prevent outsiders entering energy facilities specialists of the technical unit of the branch regularly check power facilities whether they have serviceable entrance doors, locking devices and fences; install warning signs and posters on power line poles, substations, fences and doors of electrical installations.