19.08.2014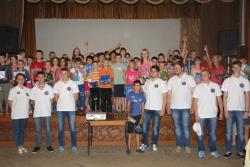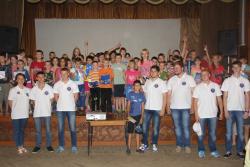 Specialists of IDGC of Centre - Bryanskenergo division together with members of a students' construction crew formed of students of Smolensk branch of NRU "MPEI" and Bryansk State Agricultural Academy, involved in the work at the company's facilities, had a lesson on electrical safety "Caution electricity!" for children undergoing rehabilitation in the junior sanatorium "Morning Glory" in Klintsovsky district of the Bryansk region. The event was part of efforts to prevent children's electrical injuries, which the power engineers organize in children's camps. The lesson was attended by more than 80 children from 6 to 12 years of age.
Representatives of Bryanskenergo explained to the children that premises of energy facilities are not a place for fun and games, that electric current could carry a death threat and does not forgive careless attitude to the rules of electrical safety. Leading Engineer of industrial control and safety Alexey Sivokha told them about the effects of electric current on the human body, the correct behaviour when one detects some damaged insulation and lying on the ground wires. In addition, the children learned what a step voltage was and how to get out of a dangerous situation. .
To consolidate the knowledge the schoolchildren were presented with themed reflective bracelets, calendars, key chains, posters, colouring books and the book "Energolandiya".
Teachers thanked the power engineers and expressed the wish to meet again. According to them, these lessons are highly relevant, because children are constantly faced with the electricity in the home. In addition, they noted the importance of such studies during the summer holidays, when children are not engaged in their studies and spend most of their free time in the street.
The members of the construction crew shared their impressions of participation in the class as well. According to them, the experience was very useful for them. "It was interesting to see how the power engineers presented the information to the children of different ages, how the children learned it, what useful knowledge they possessed, what counter-questions were asked," stressed the crew leader Viktor Lemesho. In addition, he noted that, perhaps, in the future members of construction crews will conduct such lessons on their own.
According to Deputy General Director of IDGC of Centre - Bryanskenergo division director Roman Stefanov, the company pays special attention to the prevention of electrical injuries. The power engineers hope that lessons on electrical safety will help to avoid accidents with children and adolescents at power facilities.
Educators, counselors of children's health camps may invite experts of Bryanskenergo for a lesson, submitting a request on the website of IDGC of Centre in the section "Energy Safety" at http://www.mrsk-1.ru/ru/clients/safety/ with contact details of a representative of an institution for children and the address where to conduct the lesson. Specialists of Bryanskenergo will promptly contact you and arrange a date for the class.