22.07.2014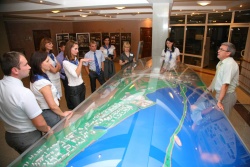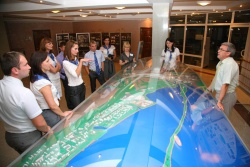 Youth organizations of IDGC of Centre - Kurskenergo division and the Kursk nuclear power plant (NPP) held a roundtable in which they discussed cooperation in various fields of work and leisure. The event was the starting point for a fruitful collaboration: in the signed minutes following the meeting the young power engineers fixed spheres of activity in which they intended to join forces.
Kurskenergo and the Kursk NPP are one of the largest and most stable companies operating in the region. Two giants of the energy complex have a common history of the formation and participation in the development of the energy system of the Kursk region, responsible approach to ensure safe and reliable power supply to consumers. The age of a substantial part of their employees does not exceed 35 years, they are active and ready for change.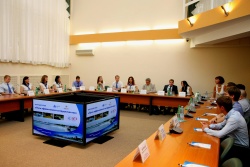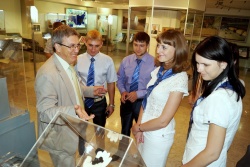 And directions of the youth policy of the enterprises are similar too. As noted during the meeting, they had identical conditions of professional adaptation, work and leisure of young workers, the practice of their career growth and professional development. They came to the conclusion that the exchange of experiences in this regard would be very helpful. In addition, they identified areas in which cooperation should be promoted more actively: this is development of professional capacity of the youth, occupational orientation of schoolchildren, labour protection and safety and development of scientific and technical creativity.
"We made sure that our companies have a lot of common ground and areas of interaction. The colleagues from the Kursk NPP have much that can be learned. I am confident that our experience will be useful to them too," stressed at the end of the event Leading Specialist of HR department, Head of the Youth Council of IDGC of Centre - Kurskenergo division Yury Piskun.
The first meeting of the young power engineers took place on the 16th of July this year in the Department of Information and Public Relations of the Kursk NPP. The representatives of Kurskenergo got acquainted with the history and the present day of the nuclear power plant in its museum and told the site owners about the activities of the distribution grid complex. In addition, under the cooperation started the young employees of Kurskenergo attended as observers the final scientific and technical conference of scientific and technical reports (papers) of young professionals and workers of the Kursk NPP. The next meeting of young power engineers, according to preliminary plans, will be held in early August. The Youth Council of Kurskenergo invited colleagues from the nuclear power plant to take part in the first youth tourist rally, organized by the branch.