21.07.2014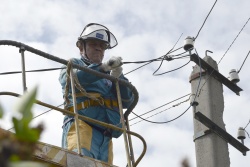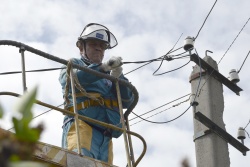 IDGC of Centre - Tambovenergo division conducts systematic work to reduce commercial losses in the delivery of electricity. One important aspect of this work is to replace lead wire in building using self-supporting insulated wire (SIW).
In the first half of 2014 Tambovenergo's specialists replaced lead wire with application of SIW in 1,635 households in the Tambov region. First of all the work was carried out in the problem areas where commercial losses exceeded the norm. In the second half the power engineers plan to replace other 1,473 leads-in.
Using SIW while replacing entries in the building allows to transfer electricity meters from enclosed spaces on the outside of buildings, which excludes the possibility of hidden wiring and connections to interfere with the operation of the meter, enables examination of metering devices at a convenient time for electricians. Furthermore, the use of this technology significantly increases safety of electricity consumption, excluding the possibility of electrical injuries.