18.07.2014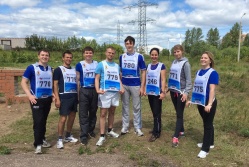 IDGC of Centre - Yarenergo division won the first place in the competition organized under the XI tourist rally "Commonwealth". Among more than forty teams the power engineers showed themselves as the most well-organized, trained and sports team.
The held by "Opora Russia" tourist rally "Commonwealth" gathers teams representing well-known companies, associations and initiative groups of citizens and active members of the business community. The event traditionally gathers members of both the Yaroslavl and neighbouring regions – more than 1,500 people. For them a tent camp was setup, sports competitions, contests and entertainment for outdoor enthusiasts were held.
The power engineers participated in the rally for the second time. Last year it was the eighth event. Among employees of Yarenergo there are many active young people and amateur athletes, so winning the competition was not an accident. The overall result of the team was formed base on participation in six rounds: mini-football, volleyball, travel baton, "beating a ball out", tug of war and a creativity contest. The power engineers performed at each of them with good results, but the second place in volleyball and "beating a ball out" brought victory to the team.
"Among the participants there were teams that came just to relax, get out into nature. We were initially focused on results. Although, of course, in such events winning is not the point. We had a great time with interest and benefit, talked with colleagues from other companies, established new contacts and got a lot of positive emotions. We are looking forward to seeing all next year!" says Chairman of the trade union of the branch Anton Sukharev.