10.07.2014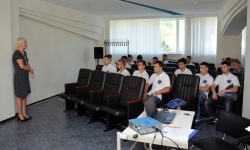 Members of the students' construction crew "Energy" (formed at IDGC of Centre - Tambovenergo division of students of Tambov State Technical University) visited Tambovenergo. The visit took place at the invitation of power engineers, who decided thus to acquaint the young people with the history and professional traditions of the branch.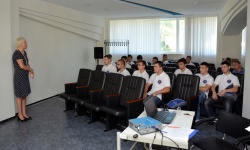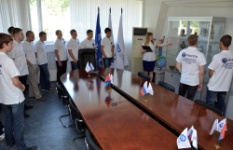 Head of HR of Tambovenergo Olga Vyazovova addressed the members of the students' construction crew "Energy" with words of welcome. "The succession of generations, exchange of experience, openness to the youth are one of the main priorities of our branch in the field of staff training. Today it is important for us to show you as future young professionals that energy is a developing modern industry, at which the work is responsible and prestigious," she stressed.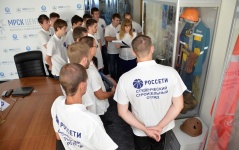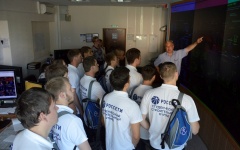 The young people visited on a guided tour the history museum of the Tambov power grid, where they were told about development of the energy complex of the Tambov region, about contemporary activities of Tambovenergo, about the essential role played by energy in economic development of the region. A visit to the Grid Control Centre of Tambovenergo also became full of information for the members of the students' construction crew: there they got acquainted with the work of operating personnel and modern management of power grid infrastructure. And the future power engineers completed their visit to the branch meeting with youth activists of Tambovenergo. Chairman of the Youth Council of the branch, a leading specialist of integrated management systems Ilya Shivnov presented projects to them, which involve young professionals and shared plans of the organization in the near future.
As said by the members of the students' construction crew "Energy", the visit to Tambovenergo proved helpful for them and left vivid impressions. "For us it was not just familiarity with the history and the present day of the branch, but a kind of immersion in our future profession," said the general impression from the visit the crew leader Herman Eremin.