09.07.2014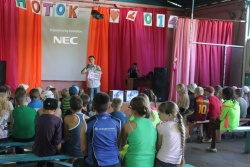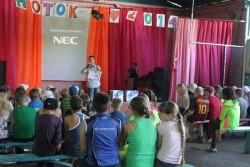 In the summer, being the time of mass recreation, specialists of IDGC of Centre - Voronezhenergo division strengthen prevention of electrical injuries among population. The power engineers inform citizens of the need to comply with electrical safety rules through the media and popular online resources. Particular attention is paid to prevention of electrical injuries among children. For them experts of Voronezhenergo organize master classes on electrical safety in children's camps. In total during the summer school holidays no fewer than 15 such studies are scheduled.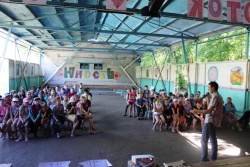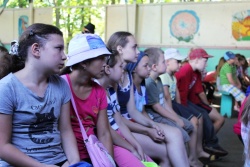 A regular lesson was held last week in the children's camp "Youth", located in Novousmansky district of the Voronezh region. It was attended by more than 100 children aged from 7 to 13 years old.
The theme of the class stirred genuine interest with children. They literally bombarded with questions about the benefits and dangers of electricity Engineer of Production Control and Safety Office of Voronezhenergo Dmitry Dorovskikh conducting the lesson. And by the end of the event they said they liked most cartoons on electrical safety and children's books "Energolandiya" with themed bookmarks and stickers, which they received as a gift from the power engineers.
"We are sincerely grateful to Voronezhenergo for organizing such a useful event!" shared her impressions Deputy Director of the camp "Youth" Elena Studenikina.
Voronezhenergo, like other branches of IDGC of Centre, conducts consistent and systematic work in the field of prevention of electrical injuries. In this issue the power engineers actively cooperate with the regional authorities and federal agencies, consistently expanding the scope of the joint activity.
In late June on the initiative of Voronezhenergo changes were made to the existing agreement between the branch and the Russian Ministry of Emergency Situations in the Voronezh region "On Cooperation in the field of protection of population and territories from emergency situations of natural and man-made character", aimed at strengthening measures to prevent electrical injuries. In addition, the branch entered into an agreement on cooperation in the field of prevention of electrical injuries with the Department of Education, Science and Youth Policy of the Voronezh region. Organization and conducting lessons in children's camps was another confirmation of the effective practical implementation of the adopted document.