25.06.2014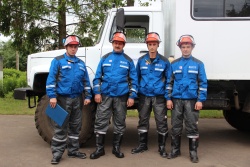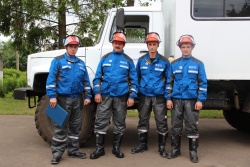 In June 2014 at the training centre of Orlovsky Distribution Zone an annual competition of professional skill among repair and maintenance crews of 0.4-10 kV distribution grids of Orelenergo was held. The main objective of the competition was to evaluate the skill level of employees of Distribution Zones, and to effectively practice safe operation skills.
The competition program consisted of seven stages with theoretical and practical tasks. Among them — checking theoretical knowledge of existing rules, regulations and standards, releasing a victim from a pole and first aid provision using a dummy simulator, replacement of insulated wire with self-supporting insulated wire. There was also replacement of a pole, repair of a wire of an overhead power line, impedance measurement of a "phase — zero" loop, replacement of a breaker, and fire suppression in a transformer bay of a 10/0.4 kV package transformer substation.
Performance of each task by the team was assessed by the point system with counting all points earned by teams. The 1st place was taken by the crew of Maloarkhangelsky Distribution Zone comprising: Master Dmitry Panarin, Electrician of first responding mobile crew of skill level 3 Ruslan Ukhova, Electrician of first responding mobile crew of skill level 4 Vladimir Okunkov, and Operator Elena Terekhova. Crews of Livensky and Pokrovsky Distribution Zones took the second and third places respectively.
All winners of the competition were awarded with certificates of merit and valuable gifts.