24.06.2014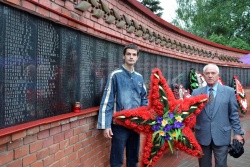 Staff of IDGC of Centre - Tambovenergo division and representatives of the Veterans' Council participated in the passed on June 22 in Tambov rally dedicated to the 73rd anniversary of the Great Patriotic War. Traditionally, it was held on the Vozdvizhenskoye memorial cemetery where there were buried soldiers who died in Tambov hospitals from wounds received in battles, as well as war veterans.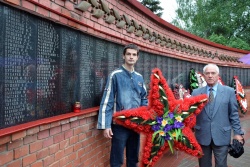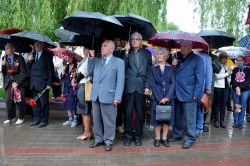 During the Great Patriotic War Tambov was in the near rear of the front. Many military evacuation hospitals were housed in the city, where hundreds of thousands Red Army soldiers were treated. A large number of soldiers died from injuries. By decision of the local authorities they were all buried in the territory of the Vozdvizhenskoye cemetery. By the 30th anniversary of the Great Victory a memorial to the fallen was erected there: a sculpture of grieving Motherland and a wall with a number of granite obelisks on which the names of the buried soldiers are carved. Since then, the memorial is the venue for memorable events connected with the war.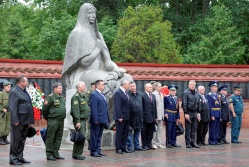 Participants of the meeting on June 22 were hundreds of residents of Tambov, among whom there were leaders of the city and region, veterans, representatives of youth organizations and the public. Together with them the power engineers commemorated the fallen with a minute of silence, and after the funeral service and musical pageant of a well-known group laid wreaths and flowers at the memorial.
"In our country almost every family has its own heroes. They are also among the Tambov power engineers. Tambovenergo's employees commemorate victims of the Great Patriotic War. They will remain in our hearts forever," stressed Head of the administration of IDGC of Centre - Tambovenergo division Andrey Remizov.