29.05.2014
Staff of IDGC of Centre - Tverenergo division held electrical safety lessons for schoolchildren of primary school # 41 in the city of Tver. On the eve of school holidays, more than 120 children in grades 1-4 learned when the electric current is dangerous and rules of behaviour near power facilities.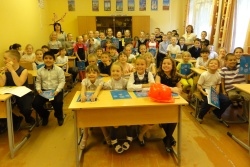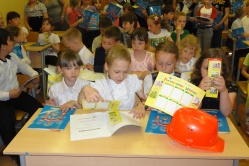 The power engineers warned about the threat of injury during penetration into transformer substations and other electric grid facilities, which are an unacceptable place to play and manifest curiosity. In a playful way Tverenergo's experts talked about the safe handling of electrical appliances, and with the help of an animated teaching video they focused attention of the young audience on the rules to be learned. The schoolchildren willingly participated in a dialogue, asked questions, solved riddles and took part in a themed game.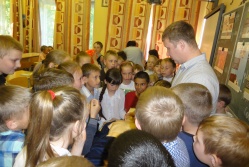 A master class in first aid was of particular interest to the schoolchildren, where a training simulator "Gosha" was a victim with electric shock. The children had the opportunity to try their hand at working out of action for man's salvation.
The power engineers presented all the schoolchildren with colourful time-tables, bookmarks, stickers "Safe Childhood" and colouring books of Vyacheslav Kolesnik "Energolandiya", which in an exciting form introduces rules for safe handling of electricity. In it the schoolchildren will find puzzles, riddles, chain words and tests that will help in the form of games to test their knowledge.
Posters and visual teaching aids were given to the school library for teachers, who will be able to conduct lessons on electrical safety in the school. The power engineers urge teachers to cooperate in order to reduce the risk of electric shock at power facilities.
With efforts of the power engineers of IDGC of Centre - Tverenergo division similar lessons on prevention of electric injuries within a month of electrical safety are held in all 36 Distribution Zones.