29.05.2014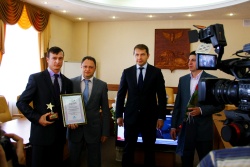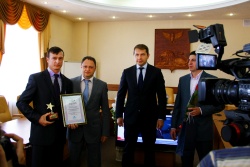 Chief Engineer of Prokhorovsky Distribution Zone of IDGC of Centre - Belgorodenergo division Alexander Balabanov and Deputy Head for sale of services of Volokonovsky Distribution Zone Sergey Saenko became winners of the annual regional competition "Engineer of the Year – 2013" in the nomination "Electricity supply, electric networks and systems " in the categories "Professional engineers" and "Engineering art of the young".
The awarding ceremony was held in the boardroom of the Belgorod Regional Duma on May 28. Diplomas to the best engineers of Belgorodenergo were handed by Head of the Department of Economic Development of the region – Deputy Prime Minister of the region Oleg Abramov, noting the special contribution of the power engineers to the construction of Olympic facilities in Sochi. "It is gratifying that every year more and more talented people take active part in the competition. It speaks about the prestige of engineering specialties, growing interest in innovation," shared Oleg Abramov.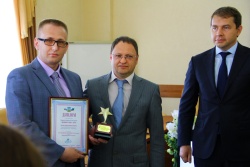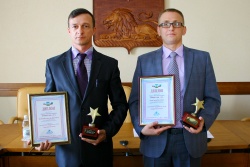 Sergey Saenko has been working at IDGC of Centre - Belgorodenergo division since 2008. Deputy Head for sale of service of Volokonovsky Distribution Zone was appointed in 2013. In the same year he had an award winning a competition of projects in energy conservation and efficiency IDGC of Centre on the topic "Electricity metering. Reduction of commercial losses" for the proposed idea of R&D "Development of a tester for electricity meters for foreign, embedded devices, capable of distorting the volume of metered electricity". Besides, Sergey is the author of several proposals to optimize the workflow. Among them — remote reading of geographical coordinates of 10/0.4 kV transformer substations in the Belgorod region to reduce participation in this process of mobile crews, as well as measures to improve the exchange of information between operators of the contact centre grid control centre and checking database of consumers of Belgorod Distribution Zone.
Alexander Balabanov has been at the Belgorod grid since 1999. During his work he rose from an operator to Chief Engineer of the Distribution Zone, working in his current capacity since 2006. Alexander is the developer of the 0.4-10 kV electric networks of Prokhorovsky district for the period until 2015 with a vision to 2020, within which new power facilities are being constructed in the district. Alexander Balabanov considers systematic, rational, consistent development and modernization of the electric grid section entrusted to him as his main professional achievement.
The traditional competition "Engineer of the Year" is an initiative of the Government of the Belgorod region in order to identify the best engineers in the region, stimulating the growth of professionalism of the engineering staff and the general standing of the profession. It should be noted that staff of IDGC of Centre - Belgorodenergo division have participated in this contest and become the winner several times.