26.05.2014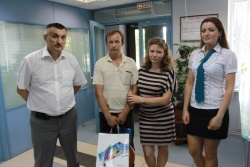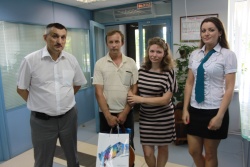 Kostroma Customer Service Centre (CSC) registered the anniversary customer. The 90000th visitor was Alexander V. Krenev, chairman of a gardening association "Concrete worker" who applied for the CSC for connection contracts of garden houses and a lodge in the gardening association "Concrete worker" to electricity grid of IDGC of Centre - Kostromaenergo division. Head of customer interaction of the branch Alexander Klimov congratulated the honorary anniversary customer.
Alexander V. thanked the CSC for quick grid connection documents processing: "I want to say that the customer service in the Kostroma CSC on all issues at a high level. I am pleased to note the competence, professionalism and courtesy of employees." Testimonials of the Customer Service Centres will have new records of grateful clients. For 4 months of this year more than 70 positive reviews have been received.
The Kostroma region has three Customer Service Centres: in Kostroma, Sharya and Nerekhta. Their main function is to help consumers in matters relating to contracts for connection to the electric grid, the quality of electricity supplied, as well as the provision of value-added services. Citizens can apply here for replacement of meters, grid connection, grid connection support and other services. Also, these services are provided by Distribution Zones that exist in each of 27 regional centres of the Kostroma region.
In addition to on-site CSC work there is also off-site service for consumers: the Internet reception, located at: http://www.mrsk-1.ru in the section "Clients" and around the clock power direct hot line at 8-800-50-50-115 (toll free). With this phone you can apply for value-added services, report theft of electricity, get advice on the power supply, and make claims for the quality of services provided.
"Creating supportive and the most comfortable environment for our clients, openness and transparency — these are the basic principles of the activity of IDGC of Centre - Kostromaenergo division, which the Customer Service Centres help successfully implement," says Head of customer relationship management of IDGC of Centre - Kostromaenergo division Alexander Klimov.