16.05.2014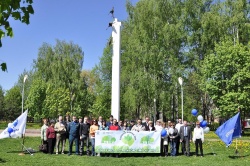 IDGC of Centre - Yarenergo division held the annual environmental campaign "Let's save the energy of the forest". The event was timed to coincide with two anniversaries: the 10th anniversary of IDGC of Centre's incorporation and the 80th anniversary of the Yaroslavl power grid.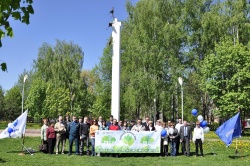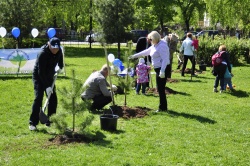 Tree planting campaign is held each year in all 11 regions where the Company operates. Its goal is to make their native land clean, beautiful and comfortable for living. In addition, one of the objectives is to implement the so-called compensatory planting, because in some cases power engineers are forced to cut trees that threaten to fall on power lines.
Within the environment initiative the power engineers planted in Yaroslavl and each of the municipal districts more than 500 trees. In the regional centre two new pine alleys appeared in the park near the hospital for veterans. The alley at the main entrance was dedicated to the 10th anniversary of IDGC of Centre's incorporation, and the alley in the central part of the park to the 80th anniversary of the Yaroslavl power grid.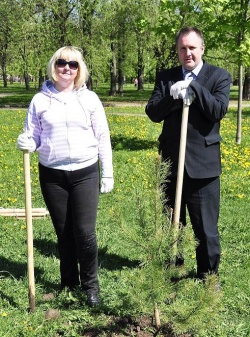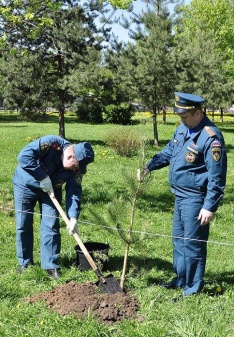 Together with the power engineers – employees of the company, members of the Youth Council and the Veterans' Council of Yarenergo the action was attended by representatives of the Government of the Yaroslavl Region and the city administration, civic and trade union leaders, as well as employees of EMERCOM and forestry. Some participants came together with their families. At the event there were a lot of children who were happy to help plant trees. Substantial support was given by MUE "Gorzelenhozstroy" in carrying out the action.
"Today the power engineers are making its modest contribution to the improvement of our city. The trees we have planted will be pleasing to the eye of Yaroslavl citizens. I am sure that the participants of the today's action will come to this park more than once then to admire the magnificent trees and proudly recall that they were planted with their own hands," stressed Chief Engineer of Yarenergo Vladimir Grigoriev.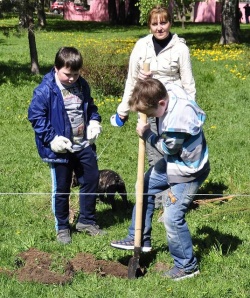 The environmental initiative of the power engineers found a positive response from the public authorities.
"Thanks to the power engineers. Now, in a period of rapid development of technology, it is important to keep caring for the environment. As it was correctly observed, the trees are the green lung of our planet, and the more there will be the freer we breathe and the better we live," thanked the power engineers Director of the Energy and Tariff Regulation Department of the Yaroslavl region Olga Ven.
"Next year we are planning some large-scale improvement of the park, and the today's action of the power engineers will be of good help. I am confident that together we can make our city clean, beautiful and comfortable for living," said Head of Leninsky district of Yaroslavl Andrey Zotov.