15.05.2014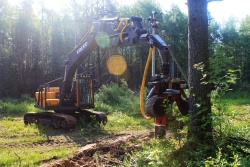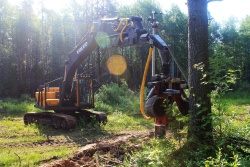 Kostroma power engineers of IDGC of Centre have launched a massive operation to expand ROWs along power lines. Expansion of the ROWs is one of the priorities of the company as it directly influences the level of reliability of power supply to consumers. The aim of this work is to reduce the risks of technological failures due to falling trees onto overhead lines.
In April 2014 Kostromaenergo had 18 crews to widen ROWs along power lines. Among them there are 3 mechanized harvesters "Forwarder" and "Harvester". Each vehicle can replace up to 80 working hand specialists. The special vehicles are working at ROWs of Sharyinsky and Rozhdestvensky Distribution Zones. In particular, on the 110 kV line "Star-Dawn", which electricity feeds the largest in the region woodworking plant "Kronostar".
Thanks to early spring the Kostroma power engineers have begun the massive work to expand ahead of the previously scheduled date. According to the schedule in the second quarter of 2014 Kostromaenergo shall clear 79 hectares of ROWs along power lines from woody vegetation. Total annual plan is 487.7 hectares.