14.05.2014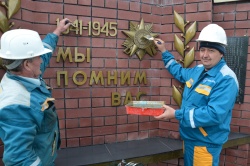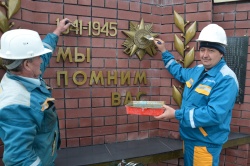 On the eve of the Victory Day celebrations employees of Kirsanovsky Distribution Zone of IDGC of Centre - Tambovenergo division conducted improvement work at a memorial to soldiers who fell during World War II in the village of Kovylka. The power engineers tidied the surrounding territory, renewed the memorial stele and inscriptions on the monument and replaced light bulbs in street lamps, prepared the ground under the beds. In addition, they renewed the paintwork of installed there busts of front-line soldiers-heroes – the natives of this place: the only Full Chevalier of the Order of Glory Mikhail Abramov and Hero of the Soviet Union Alexander Surov among the residents of Kovylka.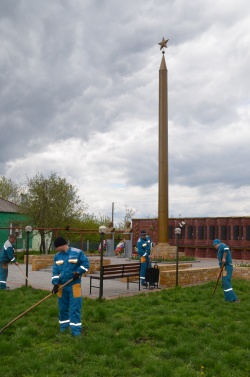 The memorial in the village of Kovylka was opened in October 2011. The idea of its construction belongs to the son of Mikhail Abramov, head of the department of integrated management systems of IDGC of Centre - Tambovenergo division Alexander Abramov. The monument was built about two years with charitable funds and active assistance of workers of Kirsanovsky Distribution Zone of Tambovenergo, participating in all kinds of activities, as well as governments, businesses of the region and local residents. The power engineers continued to take care of it upon the completion of the construction work as well. In particular, adjacent to the memorial grounds were landscaped, and trees were planted with their forces.
"For our employees the memorial in Kovylka became truly native. We further plan to maintain order and cleanliness here so that the built monument will continue to be one of the most beautiful corners of the village," stressed Chief of Kirsanovsky Distribution Zone of Tambovenergo Nadezhda Kirillova.
"During the Great Patriotic War the residents of Kovylka showed the greatest firmness, courage and bravery. 640 villagers did not return from the battlefields. Many thanks to Tambov power engineers for preserving the memory of those who honourably fulfilled their sacred duty, giving the homeland the most expensive - their life," stressed Mikhail Romantsov, a villager of Kovylka.