12.05.2014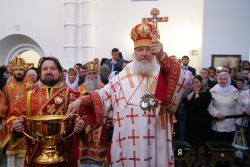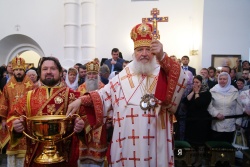 IDGC of Centre - Yarenergo division provided reliable power supply of activities dedicated to the celebration of the 700th anniversary of the birth of St. Sergius of Radonezh. In order to ensure the reliable power supply of the important event Yaroslavl power engineers took a number of preventive measures.
Specialists of the branch conducted extraordinary inspections of equipment in the substation 110/10 "Yurevsky settlement", as well as 0.4-10 kV electricity distribution networks, which provide for the power supply of the historical building. Also the power engineers took under operational control the substation, located on the premises of the Varnitsky Trinity Monastery of St. Sergius, where the main celebrations took place.
On the eve of the celebrations a mobile 60 kW diesel-generator set was delivered to the monastery and connected. On the actual day of the celebrations all services of Yarenergo were transferred to special operation mode. Maintenance personnel of diagnostics services, high-voltage grid office, services of relay protection, automation, measurement and metrology, Distribution Zones, services of operation of supervisory control and process management and information technology were also set on duty.
At the time of the event were all repairs were suspended that could weaken the power supply circuit of the responsible section. Facilities, previously switched off for repair, were switched back on.
Under the conditions of the fire season the specialists constantly monitored compliance with fire safety regulations at those energy facilities and near them. Additionally, interaction was worked out with the firehouse of EMERCOM, duty services of the district.
Security service enhanced access control to facilities, checked operative security alarms in order to avoid cases of intrusion to protected facilities, anti-terrorist threats, sabotage and preconditions to other emergencies. Further interaction schemes were worked out with law enforcement agencies, territorial local offices of FSB and Ministry of Internal Affairs.
Crews provision with gear, equipment, means of protection, availability of tools, special vehicles, machinery and mechanisms for work performance, availability and serviceability of communication, performance of remote control, devices for fault location on overhead lines, as well as backup systems and emergency power of the said devices was thoroughly checked.
Series of celebrations was opened May 11 in Rostovsky district of the Yaroslavl region. On that day Patriarch of Moscow and All Russia Kirill celebrated the divine liturgy and consecrated the cathedral church in honour of the great ascetic. Statesmen, members of the Federal Assembly, Governor of the region, and many Christians arrived at the Yaroslavl region for the celebrations.