08.05.2014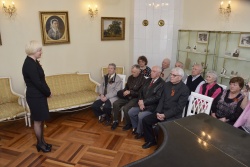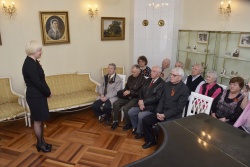 On the eve of one of the most important holidays – Victory Day staff of IDGC of Centre - Tambovenergo division organized on the occasion a ceremony honouring war veterans and members of the labour front, who gave many years working in the Tambov grid. The meeting took place on the site of the memorial House-museum of Georgi Chicherin dedicated to the life and work of a well-known Soviet diplomat.
For the gathered participants of the Great Patriotic War, home front workers, representatives of the Veterans' Council of Tambovenergo young power engineers prepared a celebratory concert, which was held in the White living room of the museum.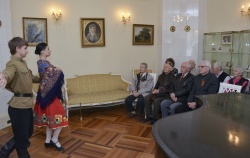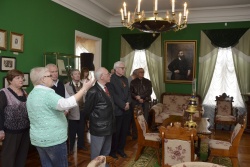 "We are immensely grateful to those who with their work and courage brought the Victory. The current generation of power engineers follows the veterans of the Great Patriotic War, bow their heads before their courage, indomitable willpower, fortitude and cheerfulness. An important task for us is to maintain the continuity of generations, the continuation of the best traditions of the labour collective of power engineers. Dear veterans, please, accept our sincere wishes for a long life, good health, happiness, cheerfulness and optimism," noted in her address to the veterans Head of Human Resources of IDGC of Centre - Tambovenergo division Olga Vyazovova.
The festive meeting continued during the tour of the house – museum in which Georgi Chicherin spent his childhood. The house is situated in the historic part of Tambov, in the city centre, on the former site of the city estate of Chicherin's father – Vasily Nikolaevich. Veterans of the power industry got acquainted with the exposition, including original photographs, letters, various documents, preserved furniture and interior of the Chicherins family home.
As a tradition, Tambovenergo's staff organized a tea party for the war and labour front veterans, during which with warm and kind words they remembered those who had passed the heavy front roads, who worked in the rear, war widows and mothers, those whose youth fell to the severe war and postwar years. Special thanks were addressed to Tambov power engineers who had made a significant contribution to the great Victory.