06.05.2014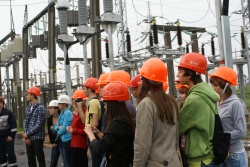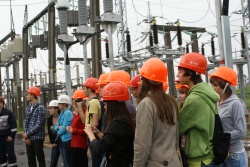 As part of the partnership agreement in the field of training of mid-level specialists between IDGC of Centre - Smolenskenergo division and the Smolensk Polytechnic College, which was signed in June 2012, Smolenskenergo started production practice.
16 third-year college students specializing in "Technical operation and maintenance of electrical and electromechanical equipment" during a month had their practice directly on-site, in Distribution Zones of the branch. During it the future power engineers got acquainted with the main activities of IDGC of Centre, could acquire practical skills and experience, feel the unique significance of the power engineering trade. The practice was held under the guidance of experienced professionals - Chiefs of Distribution Zones, leading masters-mentors of Smolensk urban, Pochinkovsky, Gagarinsky, Roslavlsky, Novoduginsky, Vyazemsky, Demidovsky, Monastyrschinsky Distribution Zones and Smolensk urban section of relay protection and automation.
Close cooperation of the branch with educational institutions of energy specialization is a necessary link in the formation of personnel reserve of the company and the whole industry. On-site practice helps "notice" and select the talented and promising graduates who in the future will be able to join the ranks of the branch employees.