06.05.2014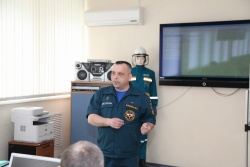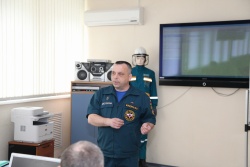 IDGC of Centre - Belgorodenergo division held a provincial interdepartmental seminar on prevention of children's electrical injuries. The event was attended by specialists of education authorities from municipalities of the region, Russian Ministry of Emergency Situations in the Belgorod region, the staff of the juvenile Office of the Ministry of Interior of Russia in the Belgorod region.
The event was of purely practical nature. It addressed techniques providing children's safety culture in handling electricity. The power engineers reminded participants of the main causes of electric shock, told about the rules of behaviour near power facilities, "step voltage" and a way to safe exit from the affected area. They showed signs that warn about the threat of electric shock.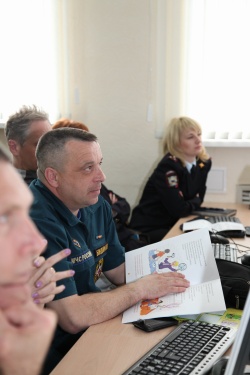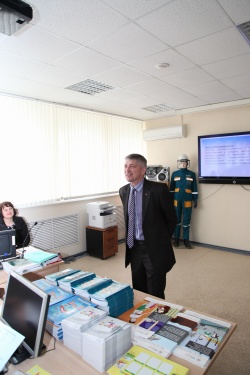 "As practice shows, the number of accidents associated with electrical injuries does not get reduced. About 60 thousand people in the world die every year of electricity. This compares with about three small areas of the Belgorod region. And if adults are most likely to suffer because of their own negligence, and children – out of ignorance. The task of teachers and mentors to lead painstaking advocacy to the younger generation," stressed the engineer of production control and safety Office of Belgorodenergo, a former methodist of one of the schools in the region Eduard Anpilov.
It is difficult to explain to young children what the threat posed by electricity is, but not to high school students. They have already the basic level of knowledge that will help understand the physical nature of electricity and consequences of their actions. Lessons on electrical safety, according to Eduard Anpilov, should become an integral part of polytechnic education, and teacher of physics, chemistry and biology should come help teachers of life safety. In addition to studies with children it is expedient to involve their parents, whose authority and experience can be invaluable.
"Most high school students already know fundamental laws of physics, as well as the fact that the human body, which is almost 80 per cent of water, is an excellent conductor of electricity. Lessons with teenagers need to build on this basic knowledge and with an emphasis on logic," he considers.
"If we do not lay the basics of safety in children, in subsequent years it will be difficult to do," stressed a senior methodologist of the Belgorod Institute of Education Development Albert Nikiforov. At the seminar, he presented a regional module of the program for extracurricular activities "Life safety culture", which provides more in-depth study of the issues of electric and fire safety and will appear in schools in the region in the new academic year.
At the end of the event the teachers received books and brochures that will help them in conducting classes on electrical safety. And it is difficult to overestimate the importance of the very classes, especially on the eve of the long school holidays.