05.05.2014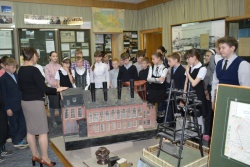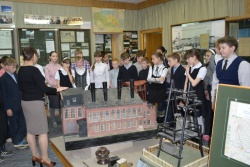 Within the "Week of electrical safety" Tver power engineers of IDGC of Centre held for pupils in school # 34 a training session to get acquainted with basic rules of behaviour near power facilities and handling electricity, talked about the first aid to the victim of the electric current, and organized a tour of the museum of the Tver power grid at the Tver training and production centre.
As part of measures to prevent children's injuries at power facilities Tverenergo's specialists using demonstration materials explained the pupils what the electrical current was dangerous about, introduced to the basic warning signs on power equipment, talking about the dangers and risks of being near power facilities. The practical part of the lesson was of particular interest of the children's audience. The pupils were shown techniques of resuscitation of a dummy patient with a special simulator Gosha. Those who wanted had an opportunity to master the technique of first aid.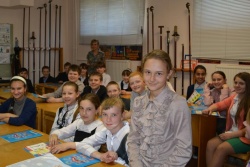 For prevention of electrical injuries all the schoolchildren received visual-information materials, warning about the threat of electrical installations and preventing from improper handling of electrical appliances in the home. Books, colouring books, posters, leaflets, bookmarks and calendars will help the pupils learn the basic rules of electrical safety.
Learning the power industry continued in the museum of the Tver power grid. Chief specialist of the training and production centre Elena Finikova told how the power grid facilities of the Upper Volga developed and how they affected the economy of the country and the region. On the eve of Victory Day, the pupils learned examples of courage and resilience of Tver power engineers in the restoration of power facilities in the years of World War II after liberation of the city of Kalinin from Nazi invaders. By surviving photographs, documents, maps and layouts the pupils could imagine a picture of the power industry development of the Tver region, events of the past and present achievements.