05.05.2014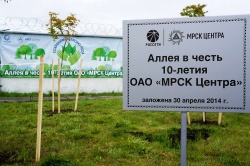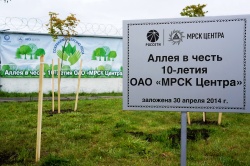 April 30 near the 110 kV Substation "Northern" Belgorod power engineers laid an alley of 24 globular maples in honour of the first anniversary of IDGC of Centre. The event was part of a large-scale campaign "The electric grid — for the environment".
Annual tradition to plant trees appeared with the power engineers in 2010, after a serious accident in the Moscow region, to eliminate which the power engineers had to clear hectares of ROWs of green space along power lines. To make up the balance of nature, in the same year, thousands of new seedlings decorated alleys, squares and parks across the country, including in the Belgorod region.
This year is the anniversary of the incorporation of IDGC of Centre, so it was decided to make the current environmental campaign to coincide with the significant date.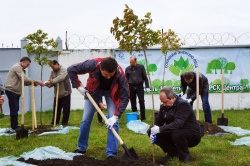 "10 years for the company — this is the first serious date. Together, one team, we have achieved much, set targets towards which we consistently strive," stressed Deputy Chief Engineer — Head of High-voltage Grid Office of IDGC of Centre - Belgorodenergo division Sergey Reshetnikov. "Subsequent generations of power engineers need to know how it all started, so today will go down in history, and alleys, I am sure, each year will appear more and more, as well as our luggage of successful projects."
The large-scale environmental campaign under the slogan "Let's save the energy of the forest" in that day passed in all structural units of the branch. New seedlings decorated existing parks and squares in districts of the region: the alley of veterans in Belgorod, the square named after Full Cavalier of the Order of Glory Alexander Pisklov in Rakitnoye and in the park named after the first chief of Distribution Zone A. Lokka in Chernyanka, in the park of power engineers in Valuyki.
In general, about 200 young firs, pines and arborvitae, rowan and maple, birch and linden trees, lilac bushes, jasmine and juniper appeared in parks, alleys, recreation centres, and sites of Distribution Zones.