30.04.2014
IDGC of Centre — Bryanskenergo division summed up the autumn-winter operation period of 2013-2014. Despite difficult weather conditions, there no serious technological failures recorded that could result in damage to equipment or to prolonged massive blackout to consumers in the service area of the branch. Electricity to consumers of the Bryansk region was supplied smoothly.
During the operation through the autumn and winter period Bryanskenergo's employees managed to improve a number of key indicators, in particular – to reduce by 3.6% the number of outages in electric grids of 6-110kV compared to the same period last year. Performed large-scale preparatory work by the power engineering contributed to the positive results, during which a number of technical and organizational measures were carried out: repair, reconstruction and new construction of power facilities; clearing and extension of ROWs along overhead power lines; purchase of new equipment and a backup power supply system. In order to prevent emergency situations in all Distribution Zones of the branch diagnostics of power equipment, systems and supervisory control, relay protection and emergency control was performed. A system of notification and calling operating and maintenance personnel in the event of technological failures was tested. Drills and exercises associated with the elaboration of the action in terms of emergencies were conducted.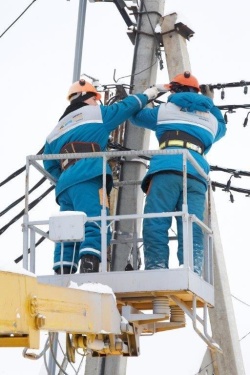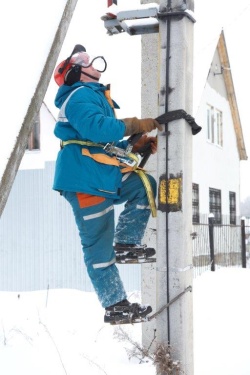 Another factor that led to the successful completion of the autumn and winter period was well-established, constructive engagement of the power engineers with the Government of the Bryansk region, local authorities, the General Directorate of EMERCOM of Russia in the Bryansk region.
Currently the power grid of the region is stable. Operational and maintenance personnel of first responding mobile crews, duty substations in all Distribution Zones of Bryanskenergo stand ready to address possible technological failures. In case of emergencies 96 emergency and restoration crews (649 people) may be involved to eliminate them, equipped with all necessary gear and clothing; 122 special off-road vehicles and 60 redundant power supply sources.
For the purpose of informing the public about the outages occurred in electrical networks and status of emergency and restoration operations Bryanskenergo operates the around the clock hotline — 8 800 50 50 115 (free call).
"Successful operation through the autumn and winter period is the result of year-round work and regular measures aimed at improving the reliability of electricity supply to customers. Light in every home, enterprise and organization of the Bryansk region is the result of the enormous work done by the power engineers of the Bryansk branch of IDGC of Centre. Behind such everyday and commonplace benefits there is enormous contribution of the company, labour and highly qualified employees of IDGC," stressed Deputy General Director of IDGC of Centre - Bryanskenergo division director Roman Stefanov.