23.04.2014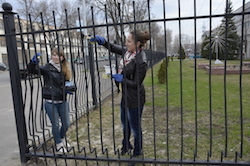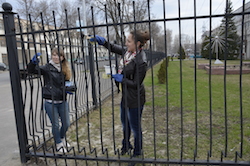 Staff of IDGC of Centre - Tambovenergo division responded to the call of the Tambov city administration and participated in a citywide campaign to beautify and improve sanitary conditions in the streets of the regional centre.
Traditionally, the most massive event each month of improvement becomes a citywide cleanup. This spring it fell on April 17. From the very morning Tambovenergo's employees were engaged in cleaning sections of Aviation and Ryleev streets and Morshansk highway, where the site of the Tambov Distribution Zone and the Executive Office building of the branch are located.
Warm, sunny weather helped harmonious work of all those who came to work for the benefit of their native city. For a few hours Tambovenergo's staff collected all the garbage left after produced on the eve filing of trees, painted fences, landscaped grounds and tidied curbs around the administrative buildings of the branch.
"The city authorities have embarked on beautification of Tambov - and we are pleased to support it. This work is not under compulsion, but at the call of the soul," stressed Chief of Staff of Tambovenergo Andrey Remizov welcoming participants of the general clean-up.
On the same day clean-ups were held in other parts of the city, in the courts and on the premises of enterprises. Thanks to the efforts of concerned citizens, Tambov got more beautiful and became spring-fresh and renewed.