02.04.2014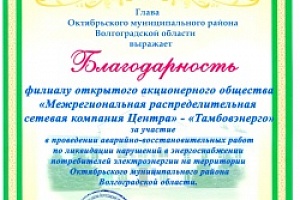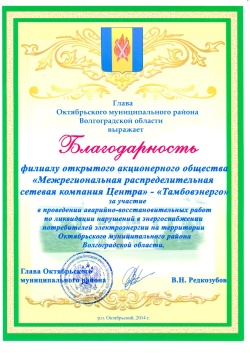 IDGC of Centre - Tambovenergo division received a Letter of Thanks from the head of October municipal district of the Volgograd region Vladimir Redkozubov. The head of the municipality expresses sincere gratitude to Tambov power engineers for participation in the district emergency and restoration operations to eliminate disturbances in electricity supply to consumers.
Please, be reminded that in the night of 18 March, a squally wind, the speed of which reached more than 25 metres per second, heavy rain and snowstorms interrupted power supply in the Volgograd region for 76.7 thousand people. Among the areas, affected by the disaster, was October district.
On the same day there two mobile crews of Inzhavinsky and Uvarovsky Distribution Zones of Tambovenergo of 12 people arrived to assist local power engineers. Together with staff of October Distribution Zone they performed emergency and restoration work in 10-0.4 kV distribution networks, having succeeded to promptly, for two days, completely eliminate the effects of the bad weather.
"Specialists of Tambovenergo repeatedly helped power companies from neighbouring regions to eliminate the consequences of emergencies. Mobile crews of the branch went to participate in the restoration of power supply in Moscow, Yaroslavl, Tver regions – and each time they promptly and professionally carried out their tasks. Clearly and coherently they worked in the Volgograd region, once again demonstrating a responsible approach to the business, willingness to help colleagues in difficult times," stressed Deputy Director for Technical Issues - Chief Engineer of Tambovenergo Igor Polyakov.