20.03.2014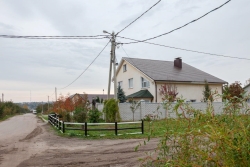 IDGC of Centre — Bryanskenergo division summed up the implementation of the "Program of energy saving and energy efficiency" in 2013.
The total economic effect from the activities in the reporting period amounted to 37.036 million rubles, which is 6.13% higher than in 2012.
Significant results under the Program were achieved through high-quality work of the branch's specialists to eliminate the theft of electricity. As a result of raids and checks conducted in 2013 in the service area of Bryanskenergo facts of non-contracted and unmetered consumption of electric energy were revealed, totalling 6,027 million kWh. Compared with 2012, this figure decreased by 3,849 million kWh.
Another important activity in the field of energy conservation and efficiency was modernization of electricity metering systems. Last year the branch removed 210 metering devices to facades of buildings and replaced taps of 0.4 kV conductors of standard wire with self-supporting insulated wire, which eliminates the possibility of unmetered consumption, unauthorized access to metering circuits, external influence on the correct operation of the meter. The activities performed made it possible to reduce the amount of electricity losses by 4,516 million kWh.
By reducing the enterprise utility energy consumption, they managed to save 23,790 thousand kWh. Saved funds as a result of implementing the energy conservation and energy efficiency measures, "Bryanskenergo" spends on development of grid infrastructure that allows to improve the quality and reliability of power supply, to create additional capacity to connect new customers.
According to Deputy General Director of IDGC of Centre — Bryanskenergo division director Roman Stefanov, taking the measures within the "Program of energy saving and energy efficiency" is one of the important activities of the branch, as the reliability of the electric grid complex and uninterrupted power supply to consumers directly depends on this.