13.03.2014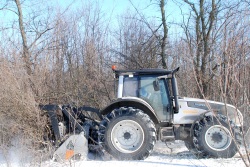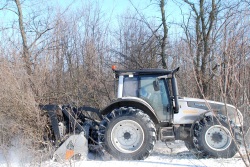 Kursk power engineers of IDGC of Centre have started implementing a program of repairs in 2014. The main work will begin in April, upon the completion of the autumn-winter period, while the branch is clearing ROWs along power lines off tree and shrub vegetation and widening ROWs along overhead lines. This work is performed regularly in order to prevent possible disturbances in the 0.4 – 110 kV grid.
Until the end of the year, according to the plan, Kurskenergo's specialists are to clear 922.2 hectares. For today 92.2 hectares have already been cleared. Also power engineers need to expand ROWs along high voltage lines in an area of 400 hectares, including: 300 ha along 35 – 110 kV lines, and the rest along 10 kV lines.
Most work will be performed on the lines "Lgov – Rylsk" with a tap to the substation "Cheremoshki", "Garden – Phosphate" 1,2, "Garden – Fatezh" 1,2, "Marino – Kremyanoe". ROWs at all facilities will be expanded to the normative values.
To improve the efficiency Kurskenergo's crews when clearing and expanding the ROWs use a mechanical timber chopper (mulcher), and other mechanical devices.
When applying a mulcher tree and shrub clippings are utilized by grinding into chips, which remain on the surface or mixed with the top layer of the earth. Thus, ROWs are not littered with wood material, which can cause a fire.
"Clearing and widening ROWs is an integral part of the work aimed at improving the reliability of the grid complex, comprehensive preparation of the grid for the autumn-winter period, and so for reliable electricity supply to consumers," stressed Deputy Chief Engineer – Head of Asset Management Centre of IDGC of Centre - Kurskenergo division Vyacheslav Istomin.