26.02.2014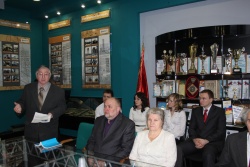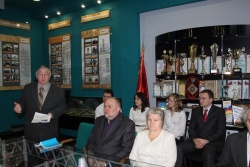 In the Museum of the History of Kostroma Energy at IDGC of Centre – Kostromaenergo division a meeting of veterans of the power industry and the Youth Council was held. The event was dedicated to the study pages of Annals of Kostromaenergo's labour glory, which were established in May 2013. In this project, biographies of unique people were collected, who dedicated their lives to energy. "The idea of creating a book arose from our director Alexander Glebov, who had worked at Kostromaenergo for more than 34 years and knew many veterans personally. The idea was immediately enthusiastically supported by the Youth Council and Veterans' Council of Kostromaenergo," says Head of Human Resources of IDGC of Centre – Kostromaenergo division Nadezhda Muravyeva. During the year, the pages of the Annals were updated with new names, new stories of people, who were creating the Kostroma power grid.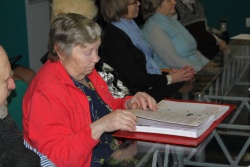 At the meeting, except for veterans and the youth, there were distinguished guests – relatives of those, who were behind the formation of the district energy management of Kostromaenergo in the 60s. For example, the son of Yury A. Voronov – the first manager of DEM Kostromaenergo Alexander Voronov "I can speak about my father only standing," he stressed. "Heroically passing the war, having worked in the energy sector for more than a quarter century, he devoted the next quarter to the Kostroma power grid. It was not very easy for Alexander to establish it "from scratch" in 1961. Father constantly was expanding opportunities of Kostromaenergo, and soon our energy system became one of the best in the country. "The younger generation of Kostroma power engineers reverently listened to memories of the first wife of Chief Engineer of the enterprise Zoya A. Vilkova, the son of the first chief of power lines service Vladimir N. Troitsky and many others.
Deputy General Director of IDGC of Centre – Kostromaenergo division director Alexander Glebov set the tone of the speakers. He recalled with great warmth those with whom he had worked, talked about the highest professionalism, wisdom and willpower of founders of the Kostroma power system. Speeches of veterans were accompanied by an electronic presentation of the pages of the Annals. Now it has more than 80 pages collected. The age of the Kostroma power system has more than half a century. At the root of it there are industry veterans, enthusiasts, professionals in their field. That was them who in the 60s of the XX century almost from scratch were creating power grid facilities in the region. Now, thanks to the Annals of labour glory, the youth of Kostromaenergo can absorb the spirit that has always allowed Kostroma power engineers of IDGC of Centre to ensure reliable and uninterrupted power supply to the Kostroma region, to do it professionally and competently.