25.02.2014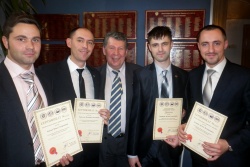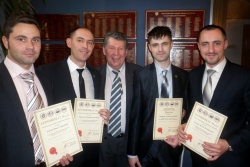 Power engineers of IDGC of Centre - Belgorodenergo division won the All-Russian competition "Engineer of the Year – 2013". An awarding ceremony and presentation of badges of honour "Professional Engineer of Russia" was held on February 24 at the House of Engineers in Moscow.
According to the results of a prestigious professional competition awards were given to four employees at once: the head of customer service Valery Kharkov, leading engineers of distribution networks office Artem Bugrov and Pavel Kosov, an engineer of electricity delivery office Artem Dyukarev. They received certificates, diplomas and memorable badges from the hands of famous scientists: Doctor of Engineering Science, Active Member and Chief Scientific Secretary of the Academy of Engineering Sciences Alexander Bagdasaryan, Vice - President and First Secretary of RUSEA Vladimir Sitsev, Deputy Chairman of the Board of the Moscow Union of USEA Nikolay Alexeyev and Candidate of Engineering Science, Professor of the National University of Science and Technology "MISIS" Yury Bogomolov.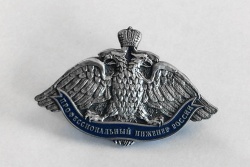 Alexander Bagdasaryan drew attention of colleagues to the role of engineering ideas in the modern society and wished the young engineers to continue success in all professional endeavors. "Even the sport cannot do without quality work of engineers. Complicated, attention to detail structures of the 2014 Olympics say a lot. We must continually demonstrate the importance of the profession in our daily work," stressed the scientist.
The All-Russian competition jury noted extensive knowledge and experience of the Belgorod power engineers in solving issues to ensure reliable electricity supply to consumers, the availability of the grid infrastructure, operational and fruitful interaction with customers.
The All-Russian competition "Engineer of the Year" is aimed at identifying the best representatives of the scientific and technical intelligentsia and to attract attention of government agencies to the problems of engineering in Russia. The founders of the competition are the Russian Union of Scientific and Engineering Organizations, the International Union of Scientific and Engineering Associations, the Academy of Engineering Sciences named after A.M. Prokhorov and the Interregional Public Fund for Scientific and Technological Progress. The jury and expert committees are composed of leading scientists, engineers and specialists from various sectors of the national economy.