19.02.2014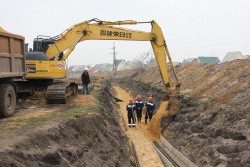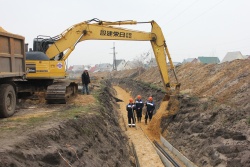 IDGC of Centre - Voronezhenergo division summed up the implementation of the investment program in 2013. The company fulfilled it with exceeding its main targets. According to operational data, 1 billion 427 million rubles (excluding VAT) were spent on the construction and reconstruction of power facilities in the reporting period, which accounted for 104% of the plan. Commissioning of the main production assets in monetary terms reached 1 billion 357 million rubles (excluding VAT) – 7% higher than the planned values.
As part of the investment program Voronezh power engineers started implementing a number of major projects. So, in the middle of last year, the construction of a 110 kV cable XLPE line from Substation # 30 "Podgornoye" to Substation # 13 "VPI" began. This is the first stage of the branch's largest investment project in 2013-2014, the aim of which is a twofold increase in power output of social and engineering infrastructure of Kominternovsky district of Voronezh. The second phase, involving the reconstruction of Substation # 13 "VPI" with the voltage transfer from 35 to 110 kV, is scheduled for completion this year. Total investment in the project is more than 300 million rubles.
Another priority of the Voronezh power engineers in 2013 was the construction and reconstruction of 10-0.4 kV distribution networks. Here, among the most significant projects was the modernization of a 10 kV overhead power line in Ramonsky district, passing through forests of the State Forest Fund from the village of Starozhivotinnoye to the village of Chertovitsy. When installing it the Voronezh power engineers for the first time in their practice used the universal self-supporting cable system "water – ground – air", which is distinguished by high electrical parameters and environmental safety. The reconstruction of the line allowed to significantly improve the reliability of supply to consumers of the municipality, which includes the well-known regional sanatorium - resort named after F.E. Dzerzhinsky, a health resort for children, a high school, households and suburban homes, located along the banks of the Voronezh river.
In total, in 2013 as part of its investment program implementation Voronezhenergo's professionals upgraded 74 kilometres of lines.
As significant projects in 2013 one should also note the construction of a tap line from the 110 kV overhead power line "Kolodeznaya #1, #2" for the grid connection of two major units of a branch of JSC "Concern Rosenergoatom" - Novovoronezh Atomic Power Station: a training centre and a residential neighborhood "North" in Novovoronezh. Their construction began in 2007, simultaneously with the construction of new power units of Novovoronezh Atomic Power Station. In the near future the two facilities will be put into operation.