18.02.2014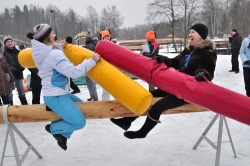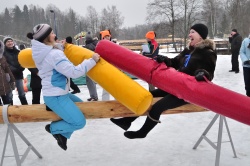 IDGC of Centre - Yarenergo division held the fifth tourist gathering "Energy winter - 2014", which had more than 100 power engineers of the branch from the entire region as participants. The initiator and organizer of the event was the trade union organization of Yarenergo.
Sports events took place in the Park of outdoor and family activity "Fun" in the village of Belkino. There was a site set up for sports and competitions combined with traditions of ancient Russian winter fun. The power engineers competed in mini hockey and pedometer, fought with pillows and went "wall to wall", and threw felt boots. Team competitions "Multiarm saw" and "Team rope" charged good mood. The most unusual and exciting contest was perhaps the felt boot hitting where the participants had to knock off the ball from a cone using a felt boot on the rope.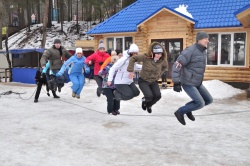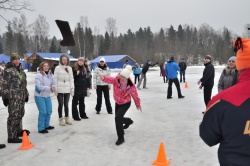 At the conclusion of the championship the participants of the tourist gathering could relax a bit and enjoy a scenic winter forest. And those who still had energy participated in winter attractions: riding on quad bikes, pneumatic toboggans and buggies, a car-racing track, they were able to shoot a crossbow, to do ice skating and skiing.
Tourist gatherings and outdoor activities became a good and favorite tradition for power engineers. They are part of the social policy of the branch and aimed at promoting a healthy lifestyle among the staff, the development of corporate traditions and team building.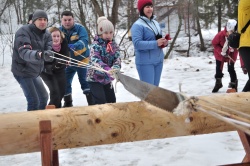 "Yaroslavl power engineers are always happy to participate in such sport events. It is worth noting that more and more workers come with their families, bring their children with them. This suggests that the team of Yarenergo is truly united and strong, a real team that is ready to overcome any difficulties together," said the chairman of the trade union organization of IDGC of Centre - Yarenergo division Anton Sukharev.