24.01.2014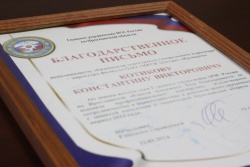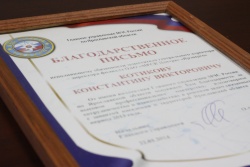 General Directorate of EMERCOM of Russia in the Yaroslavl region thanks the management of IDGC of Centre – Yarenergo division for fruitful cooperation in 2013. A letter of thanks to the head of the branch distinguishes professional excellence shown by power engineers in the task of protecting the region's residents.
Safety and comfort of people's lives are the main challenges before both the rescuers and the power engineers. Close interaction has been established between the services. In emergency situations together they cope with consequences of bad weather associated with the emergency shutdown of electric grid facilities. They jointly control holding events of the regional and national scale. Yarenergo operates a system of electronic exchange of information with the Centre for Crisis Management of General Directorate of EMERCOM of Russia in the Yaroslavl region. Staff of both services every day is in single information space. Information exchange between Yarenergo and EMERCOM is implemented through the work of the headquarters to ensure security of power supply at the Regional Government. Both services pay great attention to the safety for the younger generation: they hold joint thematic lessons in schools, promotions and other activities aimed at preventing cases of children's electric injuries.
Last year, a serious challenge for all was a series of snow cyclones that hit the Yaroslavl region in late November – early December. Abundant precipitation, freezing rain, multiple changes in temperature led to the largest power outages in recent decades. Restoration work demanded not only the mobilization of own forces of the power engineers. Great help in eliminating the consequences of the disaster was provided by the fellow rescuers. Regional Office of EMERCOM provided additional diesel generators, rescue teams eliminated obstructions on ROWs, removed fallen trees and sawed down branches. Reliable power supply was restored. This work was highly appreciated by the heads of municipalities.
"In case of emergency, as soon as possible to cope with the emergency situation, Yarenergo calls the aid of colleagues," says acting branch director Konstantin Kotikov. "During the start of snowfall this winter we were supported by EMERCOM, representatives of district administrations, forest management and utilities. Through consolidation of the grid complex power engineers of other enterprises of the Group of companies "Russian Grids" promptly arrived to perform the restoration work in our region. Today, without attracting resources of Russian Grids – by forces of a particular region – it is impossible to eliminate a technological violation of this magnitude. I am sincerely grateful to everyone who responded to our call. A special word of gratitude to the staff of the regional office of EMERCOM. We appreciate the established relationship with rescuers and are always ready to cooperate for the benefit of consumers."