20.01.2014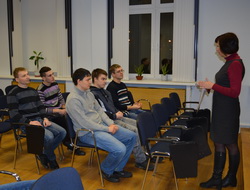 The Tver branch of IDGC of Centre held an Open Doors Day for the 5th year students of the Ivanovo State Power University after V. I. Lenin, who arrived with the purpose of practical training.
Power engineers introduced the students with the basic activities of the company, spoke about the structure of the branch, large power facilities and development prospects of the company.
As part of the Open Doors Day the young people were able to see the work of Tverenergo and power equipment. The students got answers to their questions from the management of the branch on social guarantees and opportunities for professional growth.
One of the stages of the tour was a visit to the Grid Control Centre. The young people saw the control panel of Kalininsky Distribution Zone, learned operational and technological management of 35/10 kV grids.
At the end of the day's sightseeing the young people visited the substation (SS) «Proletarian» 110/35/10 kV, equipped with new and modern equipment: current limiting reactors, vacuum and gas-insulated switches, an operations control room and protection panels.
The head of human resources of IDGC of Centre — Tverenergo division Sergey Zhirkov stressed: «Specialists with a high level of training are an important component in Tverenergo's activities. Open doors days holding is aimed at stimulating interest in the profession and attracting potential qualified employees to work at the branch. The Tver energy system is constantly evolving, every year new technologies are implemented and projects are developed. This practice is the transfer of knowledge and contribution to the future of Tverenergo. In the future, graduates of the university will have a chance to come to work at the branch.»