25.12.2013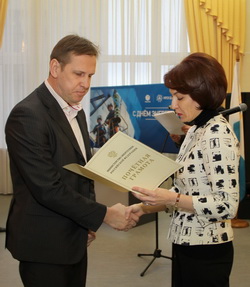 IDGC of Centre — Yarenergo division held an awarding ceremony for employees timed to the Power Engineers' Day. In their professional holiday the management highly appreciated the enterprise workers, who had well proven themselves during the departing year.
The ceremony was attended by Deputy Governor of the Yaroslavl region Natalia Shaposhnikova, Deputy General Director of HR of IDGC of Centre Inna Gromova and Acting Director of Yarenergo Konstantin Kotikov and Chairman of the Yaroslavl Regional Electric Trade Union Vyacheslav Volkov.
For fruitful and honest work a number of Yarenergo's employees were distinguished by corporate awards of the Ministry of Energy of the Russian Federation, JSC «Russian Grids» and IDGC of Centre. In particular, Leading Engineer of Diagnostics Service of the branch Alexander Vasilyev, who had worked at the company for over 40 years, was awarded the title «Veteran of IDGC of Centre». Electrician of a first responding crew Sergey Mavrin, who participated actively in the work to restore the power supply of the region, was awarded the title «Best in Profession». In total more than 30 employees of Yarenergo were given various corporate awards.
Additionally 16 Yaroslavl power engineers of the executive office and Distribution Zones were put to the Board of Honour. Their names and pictures for next year will be gracing Yarenergo's Walk of Fame, located along Voynova street in Yaroslavl.
«The departing year was quite successful for us. We achieved good results for most indicators and honorably withstood weathering tests last month. I congratulate you on the Power Engineers' Day, Happy New Year and Merry Christmas and wish you all to believe in themselves — there are no unsolvable problems, and together we will succeed,» Konstantin Kotikov addressed to his colleagues.