24.12.2013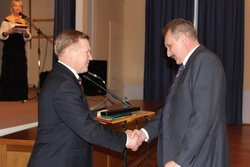 On the eve of the professional holiday — the Power Engineers' Day — 260 employees of Voronezhenergo were awarded departmental, corporate, government and municipal awards and distinctions. They were handed to the power engineers during a ceremony by Deputy General Director of IDGC of Centre — Voronezhenergo division director Ivan Kleymenov.
Before starting the procedure of awarding, he thanked the big and friendly team of the branch for their dedication to the profession and intense work. He also noted that for the year Voronezhenergo remains one of the leaders in IDGC of Centre in terms of a number of key indicators.
Then the ceremony began. Certificates of Merit of the Ministry of Energy of Russia were given to three employees of the branch: Chief of Section Nikolay Voloschenko (Electricity Metering Office), Technician Olga Uvarova (High-Voltage Grid Office) and Engineer Nikolay Besedin (Kalacheesky Distribution Zone). Electrician of Anninskiy Distribution Zone Victor Dunayev was awarded the honorary title «Veteran of the power grid». Master of Verkhnemamonsky Distribution Zone Anatoly Agibalov and Engineer of the Grid Control Centre Nadezhda Kartashova were awarded the title «Veteran of IDGC of Centre». It should be noted that to distinguish with this high corporate award an employee must not only have a number of industrial achievements, but also to have not fewer than 20 years of experience in the company.
Voronezh power engineers were also marked with Certificates of Merit of the Ministry of Energy, JSC «Russian Grids», IDGC of Centre, the All-Russian Electricity Industry Association of Employers. Deputy Chief Engineer of the branch Vyacheslav Antonov was put on the Board of Honour of IDGC of Centre. Immediately several employees were awarded the title «Best in Profession», and Head of Group of Operational Service of Substations of the Grid Control Centre Konstantin Egorov on the results of the departing year was awarded the title «Best Manager». In addition, a number of employees were awarded Certificates of Merit and Letters of Thanks from Governor and the Government of the Voronezh region, the regional Duma, and managers of municipal administrations of the region.
Nikolay Voloschenko expressed the common mood of the awardees. «I am happy that I work at Voronezhenergo. My whole working career is connected with this company. I came here 34 years ago as a young specialist, and almost immediately I realized it was mine. Interesting work, a good team. And if I had the opportunity to start all over again — I'd be exactly repeated all stages of my career path,» he confessed.