24.12.2013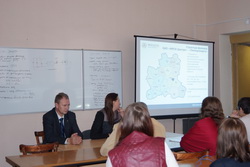 In order to attract young professionals in the energy industry IDGC of Centre — Lipetskenergo division initiated another meeting with students of specialized faculties of the Lipetsk State Technical University (LSTU).
During the event, managers of Lipetskenergo told the students about the activities and prospects of the company, as well as the personnel policy implemented in the branch, which is aimed at maintaining and improving the professional level of the staff, strengthening the high status of the power engineering profession.
A special place in the event was given to the discussion of issues within the framework of further cooperation with the LSTU. Executives of the electric grid enterprise and educational institution identified a number of problems related to the quality and specificity of training energy specialists, students passing production practices and the implementation of new educational standards in training for the most popular energy specialties.
«Today, the energy industry is particularly interested in highly qualified specialists ready to ongoing professional development and work in conditions of innovative changes. If you are willing to share our common goals, we look forward to seeing you in our team,» stressed Head of HR Katerina Mushnikova.
Personnel policy is one of the most important activities of Lipetskenergo. In order to implement it the branch performs a number of activities, including the formation of personnel reserve of young professionals, strategic partnership with the largest specialized universities and educational institutions in the country, various presentation events for pupils and students, training and professional development of staff already working and many others.