20.12.2013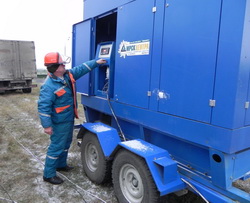 In preparation for the autumn-winter period of 2013-2014 IDGC of Centre — Lipetskenergo division held and participated in 21 trainings and 3 system-wide exercises, aimed at practicing interaction schemes of power grid companies, public authorities and territorial divisions of EMERCOM at eliminating technical violations in situations of low ambient temperatures.
To perform emergency and restoration operations Lipetskenergo prepared 118 first responding and repair crews of 529 people with 165 vehicles and 9 crews of increased mobility of 65 people and 28 specialized vehicles for rapid response to large-scale technological disturbances anywhere in our country. If necessary, 39 crews of contractors will be involved to work.
All 18 Distribution Zones of Lipetskenergo are staffed with redundant power supply sources. Currently, the branch has 46 of them, 43 of which are mobile and 3 are stationary, their total capacity is more than 1 MW.
Personnel, involved in the maintenance of power equipment, was instructed on safety measures to work at low temperatures and provided with personal protection equipment, necessary appliances and special clothing.