11.12.2013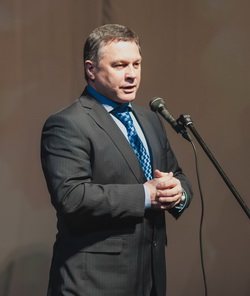 The Yaroslavl branch of IDGC of Centre took part in the awards ceremony of the annual opening of the regional contest of creative works on energy saving «Our warm house — 2013», organized by the Regional Department of Energy and Tariff Regulation, the Department of Education of the Yaroslavl region and non-profit organization «Fund «Energy Efficiency». Honouring the winners of the contest was held in the Yaroslavl State Youth Theater.
Education of literacy energy saving citizens, formation of culture of rational use of energy with young consumers, search for new energy-saving technologies is relevant both for some energy companies, and for the society as a whole.
«It is just from the childhood young citizens are ready to accept new approaches to energy consumption. Moreover, children are capable of imparting useful knowledge acquired in schools to their parents under such Contests,» said Deputy Governor — Director of the Department of Energy and Tariff Regulation of the Yaroslavl region Natalia Shaposhnikova.
In total the creative competition was attended by over 300 children and teachers from different parts of Russia: the Yaroslavl region, Bryansk, Volgograd, Ivanovo, Omsk, Samara and Perm regions, Komi Republic, and Moscow.
Young creators prepared for the contest drawings and posters on energy conservation, were engaged in researches, computer art, and designed energy-saving devices.
Yarenergo traditionally identified its young winners as well. They received gifts from the power engineers, developing erudition, logic, thinking and imagination. All participants in the event were presented a colourful book «Energolandiya» by the company in an entertaining form explaining the rules of electrical safety, because the energy saving process begins with a responsible attitude to their lives when dealing with electricity.
«In their works the children make their home the most cozy and comfortable accommodation. It is very important that at this they take in to account energy-efficient technologies too. The younger generation understands the importance of the rational use of resources — they think about how one can save electricity, heat and water. Many of their ideas may well be implemented,» stressed, rewarding the winners, Deputy Director of Development and Sale of Services of IDGC of Centre — Yarenergo division Vladimir Bystritsky.