25.11.2013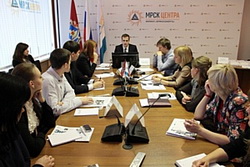 IDGC of Centre — Bryanskenergo division held a round table «The working youth of the real sector of economy: practice, problems and prospects of activity». The event was initiated by the Youth Council of the branch, young employee of energy and industrial enterprises of the Bryansk region took part in it. They discussed the most pressing for the younger generation issues: increasing income and improving the social conditions of young families, the decline in unemployment, etc.
At the round table the need to improve business and social activity of young people was also discussed. This, in particular, could help increase the number of Councils to work with the youth in organizations and institutions of the region. And the most hot debates broke out between the participants in the discussion of one of the most pressing issues for young professionals — improvement of housing conditions. The theme of financial support of promising projects and programs of the youth stirred strong reaction as well.
Following the event, the participants agreed on the need to unite the working youth of the Bryansk region. For this purpose, in particular, a public organization should be created that protects their rights and interests, they consider. As part of developing a mechanism of centralized financial support of youth initiatives the government of the Bryansk region was proposed to establish in conjunction with the real sector of the economy a contest for innovative projects of young people at work, winning projects of whom will be implemented in the region. At the same time, a special emphasis while promoting youth projects from different areas should be put on social networks, which are now the most popular information resource.
Summarizing the event, Chairman of the Youth Council of IDGC of Centre — Bryanskenergo division Maxim Dankin stressed that the discussion could achieve one of the main goals — consolidation and dissemination of experience working with young people in enterprises and organizations. Therefore, the practice of holding such roundtables with the participation of Youth Councils of enterprises and institutions of the region will continue in a variety of formats.